Save the Whales - Santa Monica sushi chef, restaurant charged with serving endangered whale
Weapons of Choice - California lawmaker would outlaw "open carry" gun right
Somebody's Watching You - new technology tells world from where one is tweeting

On this day in history: March 12, 1980 - A Chicago jury finds John Wayne Gacy guilty of the murders of 33 men and boys. The next day, he is sentenced to death; after years on death row, Gacy is finally executed in May 10, 1994.

Born on this day in history: March 12, 1922 - Jack Kerouac (1922 - 1969) Writer Jack Kerouac is best known for his book On the Road (1957), a semi-autobiographical tale that spoke for the Beat Generation. The novel made him an instant success, but the overhelming fame sent him into hiding six months after its publication. In 2007, Kerouac earned a posthumous honorary degree from the University of Massachusetts Lowell.

Scripture of the Day: He has given us his very great and precious promises, so that through them you may participate in the divine nature and escape the corruption in the world caused by evil desires. — 2 Peter 1:4

Video of the Day: Zombie vs. Shark - submitted by Cindy


Imagine my surprise when I encountered this scene while passing through Walmart on the way to my office this morning! Click to enlarge.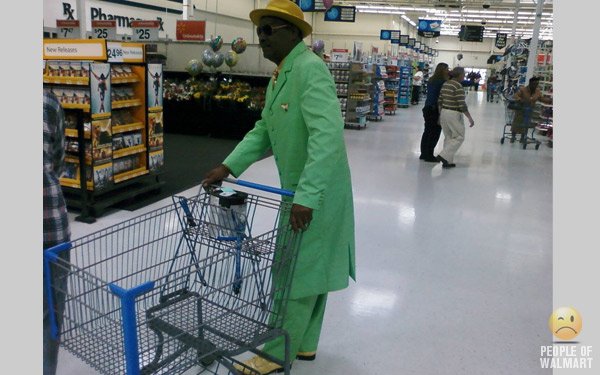 Technology News
What happens when your Web mail gets hacked
IE 9, Windows Phone in the Mix
Mozilla aggressively asks older Firefox users to upgrade

A New Camera for Laura!
Laura's interest in photography was reanimated recently when she visited the Kirshner Wildlife Foundation and photographed the wild animals there. I produced a slide show from the photographs she took there.

Laura voiced to me a complaint which has made her less than enthusiastic about photography: Her 10-year-old Nikon Coolpix 995 is simply too slow to capture action.

I have addressed this issue: I ordered for her a new Nikon D5000 DX-Format 12.3 Megapixel Digital SLR Camera, Nikkor 18mm - 55mm f/3.5-5.6G AF-S DX (VR) Vibration Reduction Wide Angle Autofocus Zoom Lens, Nikkor 55mm - 200mm f/4-5.6G ED-IF AF-S DX VR (Vibration Reduction) Autofocus Zoom Lens, and SanDisk 16GB SDHC Storage Card.

Click to enlarge.



Update
Tracking information indicates that the camera and lenses will arrive this morning. Unfortunately, tracking information also indicates that the storage card will not arrive until Monday! YIKES!

Laura's new Nikon D5000, lenses, and filters arrived! The storage card, unfortunately, will not arrive until Monday! Click to enlarge.