Armed and Dangerous - cops blame 50 raids on same wrong house on computer glitch
Surf's Down - London hospital to treat Internet-addicted teens
Stupid Criminals - burglar logs into MySpace on store computer

On this day in history: March 19, 1982 - The guitarist for Ozzy Osbourne, Randy Rhoads, dies during the Diary of a Madman tour after the plane he is flying in buzzes the band's tour bus and clips the wing of the plane, crashing into a nearby farmhouse.

Born on this day in history: March 19, 1955 - Bruce Willis (1955 - ) Born in West Germany, actor Bruce Willis came to fame in the TV drama "Moonlighting" (1985-9). He achieved star status in the Die Hard film series, which led to roles in movies including Pulp Fiction (1994), 12 Monkeys (1995) and Sin City (2005). Willis also started work as a director with films such as The Hip Hop Project (2007).

Scripture of the Day: The fruit of the Spirit is love, joy, peace, patience, kindness, goodness, faithfulness, gentleness and self-control. Against such things there is no law. — Galatians 5:22-23

Video of the Day: Zombie Survival Guide - submitted by Darin


Imagine my surprise when I encountered this scene while passing through Walmart on the way to my office this morning! Click to enlarge.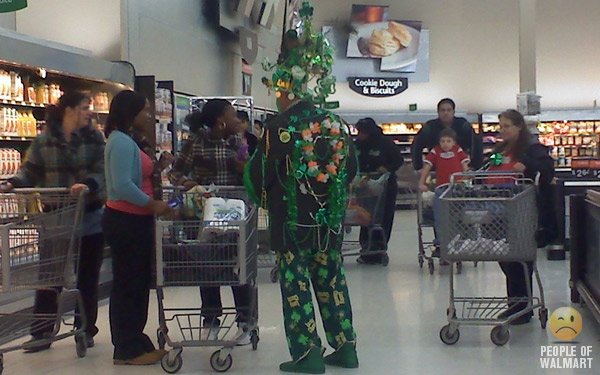 Technology News
"Highly critical" Firefox hole to be patched March 30
Windows Phone emulator unlocked
Facebook chatter betrays alleged Mafia hitman
Microsoft: Only minor tweaks in Windows 7 SP1
A look at Windows Phone's "smart links"

Photographic Weekend
Laura and I are looking forward to a photographic weekend: The weather promises to be wonderful—sunny and warm, with temperatures forecast to reach 80° or more. The wind that plagued us for the last two days appears to have abated, and no significant wind is predicted for the weekend.

I gave Laura a new Nikon D5000 DX-Format 12.3 Megapixel Digital SLR Camera, Nikkor 18mm - 55mm f/3.5-5.6G AF-S DX (VR) Vibration Reduction Wide Angle Autofocus Zoom Lens, Nikkor 55mm - 200mm f/4-5.6G ED-IF AF-S DX VR (Vibration Reduction) Autofocus Zoom Lens, SanDisk 16GB SDHC Storage Card.extra battery, Nikon lens pen, and Tamrac Series 2603 System 3 camera bag. She is eager to explore the capabilities of her new camera system!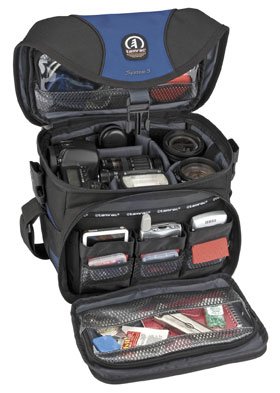 We are also eager to explore the capabilities of the ESP 5000 Wolverine Entertainment Storage Player!

Traditionally, I have taken a laptop with me when doing a photo shoot. If I fill my two 16GB CompactFlash storage cards, I can move the photographs to the laptop. If I wish to show a client the photographs I have taken, I can download the images onto the laptop and run a slide show. This methodology of managing photographs while in the field works, but it is slow, and the added weight of the laptop is not welcomed graciously. My Tamrac camera bag is easily heavy enough—containing a Nikon D3, Nikkor 105mm f/2.8 Micro lens, Nikkor 24-70mm f/2.8 zoom lens, Nikkor 70-200mm f/2.8 zoom lens, Nikon Speedlight SB-900, and an array of accessories and spare batteries!

I spent several hours researching alternative storage devices and decided upon the ESP 5000 Wolverine from Wolverine Data.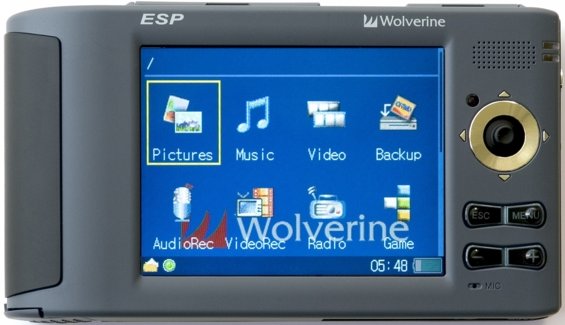 The Wolverine abates the weight issue nicely: It weighs but a few ounces. Copying or moving files from camera cards to the Wolverine is very simple: When a camera (or any storage card) is inserted into the Wolverine's card slot, the unit automatically queries what one wishes done with the images or data on the card. If one chooses to copy or move the images, this is done quickly, and the progress is displayed graphically. The camera card may then be reinserted into the camera, and one is ready to continue shooting! If one wishes to run a slide show, the Wolverine will do so instantly, since there is negligible start-up time, and a slide show may be run directly from the camera card, without needing to copy or move the images! If a television is available, the slide show may be displayed on the television.
The Wolverine is available in several capacities—from 80GB to 250GB. I opted for the 250GB model.
Here are some of the features of the Wolverine:
Download images directly from any digital camera without a computer

Use it to backup and carry all your digital images

Display JPEG, Bitmap, Tiff, Text and RAW images (most popular SLR Cameras)

Print directly to printers

Store and Play Thousands of Songs

Supports five music Formats: MP3, WMA, OGG, WAV, AAC (MP4-audio) & CDA

Easy, drag and drop music files from your computer and play them instantly

Store and Play Hundreds of Hours of Video

Supports: MPEG-1, MPEG-4, WMV9 and Xvid

Built-in FM Radio

Listen and RECORD your favorite talk shows or music from any FM Radio Station

Scan and preset up to 18 different Radio Stations

Plugs to TV and Stereo System

With the included Video/Audio cable connect the ESP directly to any TV or Projector

View a slide show of your favorite photos or watch recorded videos on the big screen

Connect to a stereo system to enjoy and share your music collection

Record Video Directly from TV/DVD/VCR/Camcorder or any other video source (require optional Cradle)

Use the ESP as a Digital Video Recorder (DVR) to record directly from TV/DVD/VCR/Camcorder using the optional Cradle System (not included)

Bring last night's game, cartoons or an entire season of your favorite TV series with you and watch them anytime, anywhere