Over the Limit - drunk man found in engine of Indian Airlines Airbus
Surf's Up - study finds Internet more important than television
Fast Food, Fast - McDonald's customer crawls through drive-through for fish sandwich

On this day in history: March 31, 1991 - Danny Bonaduce arrested for assault after he fought with a transvestite prostitute. No contest, 750 hours community service.

Born on this day in history: March 31, 1943 - Christopher Walken (1943 - ) New York City actor Christopher Walken made his Broadway debut at age 16. In 1978, he won an Oscar for the film The Deer Hunter and in 2002 he was awarded a Screen Actor's Guild award for the movie Catch Me If You Can. Walken has also gained a cult following for his many appearances on "Saturday Night Live."

Scripture of the Day: He was pierced for our transgressions, he was crushed for our iniquities; the punishment that brought us peace was upon him, and by his wounds we are healed. We all, like sheep, have gone astray, each of us has turned to his own way; and the Lord has laid on him the iniquity of us all. - Isaiah 53:5-6

Video of the Day: Toronto Zombie Walk 2006 - submitted by Amber


Imagine my surprise when I encountered this scene while passing through Walmart on the way to my office this morning! Click to enlarge.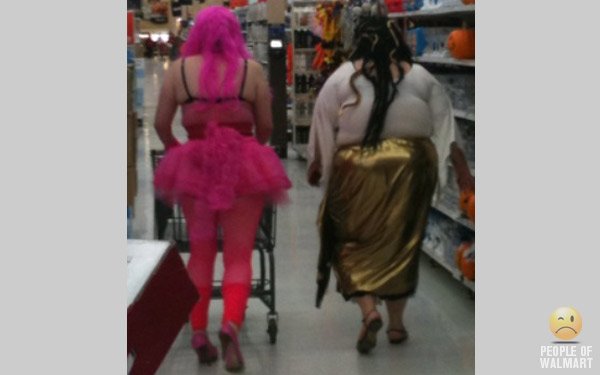 Technology News
Apple fixes 23 iTunes, QuickTime vulnerabilities
Microsoft's emergency IE update fixes 10 vulnerabilities
Last version of Firefox 3.0 released

Photography Contest

Voting: Several have voiced the idea that they would prefer to have the voting be for photographers, rather than for photographs. It is a concept that I had considered myself when considering the submissions that have already been made—well ahead of the official start of the contest, April 1st.

If this methodology of voting were to be adopted, one would vote for 1st, 2nd, and 3rd place by the numbers assigned to the submissions. In that way, photographers would be judged on the merit of their submissions. I would assign numbers to photographs submitted by the same photographer, and one would vote for "photographer 3 or photographer 9," etc.

I invite comments regarding voting in this manner. Please email me and tell me whether you would prefer to vote for photographers or individual photographs. Use this link to email me. If you prefer,
you may simply state your preference as a comment.

All visitors are invited to submit photographs (no limit!) to be considered for the Photography Contest! The contest will begin April 1 and will run through May 31st. As submissions are received, they will be added to the Photography Contest Gallery. I will set up a voting system, whereby visitors may vote for their favorites. This will be in place by the end of the contest.

To submit entries, please send them to me as email attachments. You may use the email link below to initiate an email message to me. Simply attach the images you wish to enter to your message.

Email Photographs

Please feel free to edit, crop, and enhance the entries as you wish. You may submit the entries in any resolution.

Photography Contest Gallery.