Fighting Back - 7-year-old calls 911, saves family from attack
Now See This - patients' medical records go online without consent
Animal Kingdom - the squirrels who love to get stuck in coconuts

On this day in history: March 10, 1948 - Czech foreign minister Jan Masaryk thrown from a window at his apartment in Prague under mysterious circumstances. His death was ruled "suicide" and later by the communists, to have "fallen accidentally while sitting in a yoga position on a window sill to combat insomnia."

Born on this day in history: March 10, 1983 - Carrie Underwood (1983 - ) Oklahoma farm girl Carrie Underwood got her big shot at fame after winning the musical talent show "American Idol" in 2005. Her debut album, "Some Hearts" (2005), became the fastest-selling female country album on record. By 2009, she became the top-earning "American Idol" alumnus and the youngest member of the Grand Ole Opry.

Scripture of the Day: In your hearts, set apart Christ as Lord. Always be prepared to give an answer to everyone who asks you to give the reason for the hope that you have. But do this with gentleness and respect. — 1 Peter 3:15

Video of the Day: Bush vs. Zombies - submitted by Amber


Imagine my surprise when I encountered this scene while passing through Walmart on the way to my office! Click to enlarge.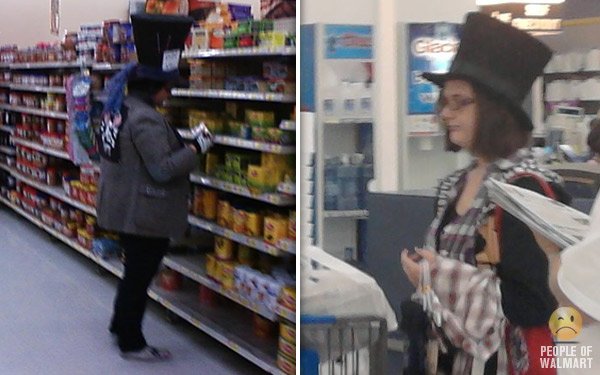 Technology News
Malware found on HTC Android phone from Vodaphone
Microsoft tweaks browser ballot code
Excel, Windows Movie Maker patched

A New Camera for Laura!
Laura's interest in photography was reanimated recently when she visited the Kirshner Wildlife Foundation and photographed the wild animals there. I produced a slide show from the photographs she took there.

Laura voiced to me a complaint which has made her less than enthusiastic about photography: Her 10-year-old Nikon Coolpix 995 is simply too slow to capture action.

I have addressed this issue: I ordered for her a new Nikon D5000 DX-Format 12.3 Megapixel Digital SLR Camera, Nikkor 18mm - 55mm f/3.5-5.6G AF-S DX (VR) Vibration Reduction Wide Angle Autofocus Zoom Lens, Nikkor 55mm - 200mm f/4-5.6G ED-IF AF-S DX VR (Vibration Reduction) Autofocus Zoom Lens, and SanDisk 16GB SDHC Storage Card.

Click to enlarge.