Weapons of Choice - Oklahoma lawmakers to challenge governor's veto of a "Firearms Freedom Act"
Matters of Life and Death - LI hospital issues abortion apology to nurses
If these Trees Could Talk - Arbor Day: Junk science and pagan worship

On this day in history: April 30, 1975 - Saigon falls to the Communists, necessitating a sudden helicopter evacuation from the U.S. embassy's rooftop

Born on this day in history: April 30, 1933 - Willie Nelson (1933 - ) Born in Abbott, Texas, Willie Nelson showed his talents as a songwriter with hits such as Patsy Cline's "Crazy" and Ray Price's "Night Life." His Fourth of July picnics became popular musical celebrations, and helped bring Nelson into the spotlight. Most recently, Nelson has performed with stars like Snoop Dogg and Asleep at the Wheel.

Scripture of the Day: Speaking the truth in love, we will in all things grow up into him who is the Head, that is, Christ. - Ephesians 4:15

Video of the Day: Hitler Sings "Jeffersons" Theme - submitted by Chris


Imagine my surprise when I encountered road work taking place while driving to my office this morning! I had no idea such innovative methodologies were being used! Click to enlarge.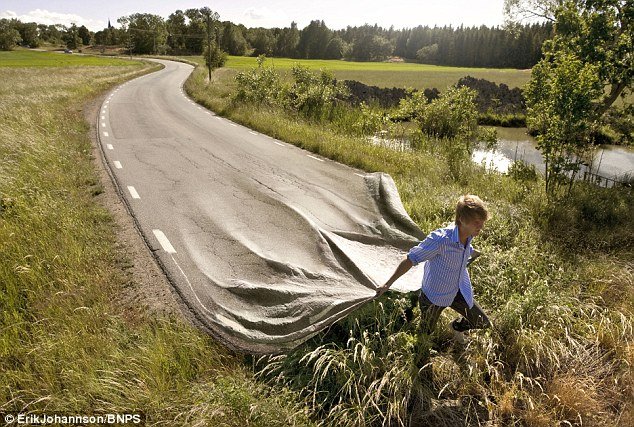 Technology News
Apple's Jobs: Adobe Flash Is closed, unstable, antiquated
Adobe issues subdued response to Jobs, will focus on Android
PDF exploits bloom in the spring

Photography Contest
All visitors are invited to submit photographs (no limit!) to be considered for the Photography Contest! The contest will begin April 1 and will run through May 31st. As submissions are received, they will be added to the
Photography Contest Gallery. Voting will be for favorite photographers.
Email Photographs
Photography Contest Gallery.

May Madness - Corning Car Show
The Corning Chamber of Commerce presents the 14th Annual Corning Classic Car Show - May Madness Show, Shine, and Cruise! May 7th and 8th.

FRIDAY Registration: 3 PM - 5:30 PM (at Transportation Center); Cruise: 5:30 PM (from Transportation Center to Corning Ford; Car Show Mixer: 6 PM to 8 PM (at Corning Ford).

SATURDAY Registration: 7 AM to 10 AM (at Transportation Center); Pancake Breakfast: 7 AM to 10 AM (at the Fire Hall); Show & Shine: 7 AM to 4 PM (along Solano Street); Car & Motorcycle Swap Meet: 7 AM to 4 PM; Motorcycle Slow Race: 9 AM to 10 AM; Mill Creek Blues Band: 9:30 AM to 2 PM; Vendors, Food, and Fun: 10 AM to 4 PM; Skateboard Exhibition: 12 PM to 1 PM; Low Rider Hydraulic Show: 10 AM to 11 AM; 1st Round of Burn-outs: 11 AM to 12 PM; 4X4 R.T.I. Ramp: 12 PM to 1 PM; Burn-out Finals: 12:30 PM; Raffle Drawing: 12 PM to 3 PM; Awards Presentation: 3 PM

Corning Skatepark Association
Be certain to visit the new Corning Skatepark Association Web Site!