Animal Kingdom - Monkeys taking over as London Zoo allows visitors and primates to interact
Ferris Bueller - hotel staffer calls in fake bomb threat for day off
Stupid Criminals - man fleeing Ohio police jumps fence, lands in prison yard

On this day in history: March 30, 1995 - A police officer who was also a member of the Aum Supreme Truth cult fires three shots into Takaji Kunimatsu, chief of Japan's National Police Agency. Takaji is seriously wounded but survives. Investigators try unsuccessfully to hide the fact that the gunman was a police officer.

Born on this day in history: March 30, 1945 - Eric Clapton (1945 - ) British rock musician who is arguably one of the most influential guitarists of our time. Clapton's career spans decades as a major singer-songwriter and he has persevered through great personal hardships and tragedies. He's the only triple inductee into the Rock & Roll Hall of Fame (as a member of The Yardbirds, Cream, and as a solo artist).

Scripture of the Day: He was despised and rejected by men, a man of sorrows, and familiar with suffering. Like one from whom men hide their faces he was despised, and we esteemed him not. Surely he took up our infirmities and he carried our sorrows, yet we considered him stricken by God, smitten by him, and afflicted. — Isaiah 53:3-4

Video of the Day: Night of the Zombie - submitted by Cap'n Jack


Imagine my surprise when I encountered this scene while passing through Walmart on the way to my office this morning! Click to enlarge.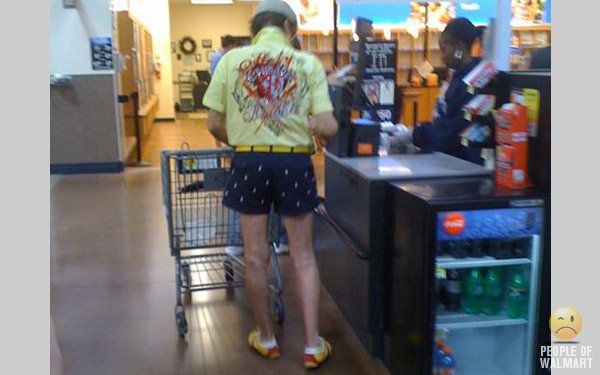 Technology News
Apps to curb texting while driving multiply
4 times you should just say, "No" to a deal
Engineer breaks Rock Band 2 world record
Microsoft rushes to patch zero-day IE hole
AT&T's U-verse gets 24Mbps downloads

Photography Contest

Voting: Several have voiced the idea that they would prefer to have the voting be for photographers, rather than for photographs. It is a concept that I had considered myself when considering the submissions that have already been made—well ahead of the official start of the contest, April 1st.

If this methodology of voting were to be adopted, one would vote for 1st, 2nd, and 3rd place by the numbers assigned to the submissions. In that way, photographers would be judged on the merit of their submissions. I would assign numbers to photographs submitted by the same photographer, and one would vote for "photographer 3 or photographer 9," etc.

I invite comments regarding voting in this manner. Please email me and tell me whether you would prefer to vote for photographers or individual photographs. Use this link to email me. If you prefer, you may simply state your preference as a comment.

All visitors are invited to submit photographs (no limit!) to be considered for the Photography Contest! The contest will begin April 1 and will run through May 31st. As submissions are received, they will be added to the Photography Contest Gallery. I will set up a voting system, whereby visitors may vote for their favorites. This will be in place by the end of the contest.

To submit entries, please send them to me as email attachments. You may use the email link below to initiate an email message to me. Simply attach the images you wish to enter to your message.

Email Photographs

Please feel free to edit, crop, and enhance the entries as you wish. You may submit the entries in any resolution.

Photography Contest Gallery.