Today's News
Book 'er Dano - NJ teacher who pulled boy out of class by his ear gets jail time
Inside Job - bank manager arrested for part in bank robbery
Sir Have You Been Eating? - Texas chef successfully deep-fries beer

On this day in history: September 16, 1968 - Presidential candidate Richard M. Nixon appears on the NBC comedy show Rowan and Martin's Laugh-In and asks "'Sock it to me'?"

Born on this day in history: September 16, 1925 - B. B. King (1925 - ) Born into a sharecropper family in Itta Bena, Mississippi, musician B. B. King made his first recording in 1949, and toured the nightclub circuit for 30 years. In 1969, he released his biggest hit, "The Thrill is Gone." A model for rock guitarists, King was inducted into the Rock 'n' Roll Hall of Fame in 1987

Scripture of the Day: Who is wise and understanding among you? Let him show it by his good life, by deeds done in the humility that comes from wisdom. — James 3:13

Video of the Day: - The World's Funniest Dogs Video - submitted by Darin

Imagine my surprise when I encountered this scene at Walmart while journeying to my office this morning! Click to enlarge.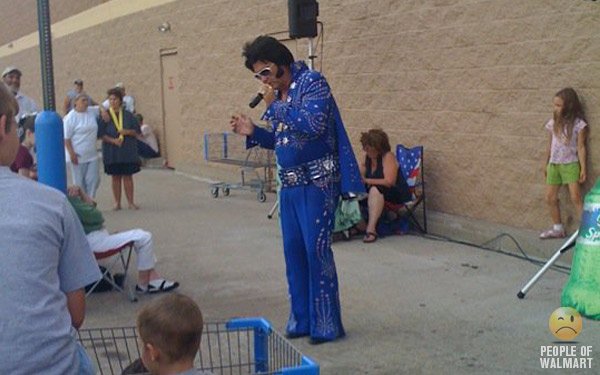 Technology News
12 Things You Need to Know About Internet Explorer 9 Beta
Microsoft releases IE 9 Beta to the public
Mozilla offers quick-fix Firefox update


Re-elect Mayor Gary Strack! Read Mayor Strack's Background and Campaign Platform!
SUBSCRIBE to the Re-elect Gary Strack Mailing List!