They're Here! - one in five adults believe aliens are on earth, disguised as humans
Weapons of Choice - sheriff to Texas border town: "Arm yourselves"
Journey to the Center of the Earth - world's deepest known undersea volcano vent found

On this day in history: April 12, 1960 - Eric Peugeot, 4-year-old son of the auto manufacturer, is kidnapped in Paris. The child is later freed after a $300,000 ransom is paid. Ultimately, the perpetrators are caught and sent to prison.

Born on this day in history: April 12, 1947 - David Letterman (1947 - ) Born in Indianapolis, IN, comedian and TV personality David Letterman is best known for his gap-toothed self-mockery, and somewhat cynical sense of humor, which attracts a cult following to his late-night TV talk show, "Late Night with David Letterman."

Scripture of the Day: Jesus said to them all: "If anyone would come after me, he must deny himself and take up his cross daily and follow me. For whoever wants to save his life will lose it, but whoever loses his life for me will save it. - Luke 9:23-24

Video of the Day: Crossroads - The Duel

Click
Here
to read details of this movie!

Imagine my surprise when I encountered this scene while passing through Walmart on the way to my office this morning! Click to enlarge.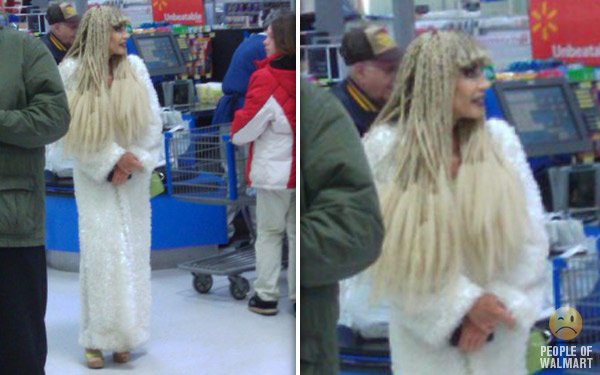 Technology News
Microsoft issues Visual Studio 2010, Silverlight 4
Java flaw exposes Windows users to attacks
Twitter proposal leads to twitted wedding
Koobface malware makes a comeback

Photography Contest

All visitors are invited to submit photographs (no limit!) to be considered for the Photography Contest! The contest will begin April 1 and will run through May 31st. As submissions are received, they will be added to the
Photography Contest Gallery.

Voting will be for favorite photographers. Details will follow.

To submit entries, please send them to me as email attachments. You may use the email link below to initiate an email message to me. Simply attach the images you wish to enter to your message.

Email Photographs

Please feel free to edit, crop, and enhance the entries as you wish. You may submit the entries in any resolution.

Photography Contest Gallery.