Bite Me! - woman chomps off part of man's ear when he calls her fat
Catch Me If You Can - teen crook nabbed after trying to outrun marathon policewoman
Faith under Fire - Virginia governor says troopers allowed to pray

On this day in history: April 29, 1945 - The American 7th Army liberates the Dachau death camp outside of Munich.

Born on this day in history: April 29, 1957 - Daniel Day-Lewis (1957 - ) Film actor, born in London, UK, the son of C Day-Lewis. He trained at the Bristol Old Vic and, after several small roles on stage and television, became well known for My Beautiful Launderette (1985) and Room With A View (1985). He won awards for his portrayal of handicapped Irish writer Christy Brown in My Left Foot (1989, Oscar, BAFTA).

Scripture of the Day: I know that my Redeemer lives, and that in the end he will stand upon the earth. — Job 19:25

Video of the Day: Angry Talking Cat - submitted by Cindy


Imagine my surprise when I encountered this scene while passing through Walmart on the way to my office this morning! Click to enlarge.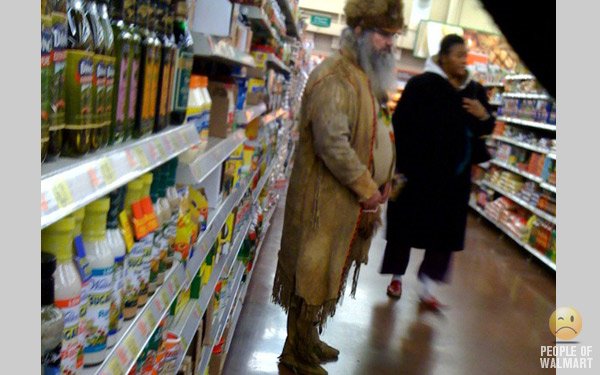 Technology News
HTC plans Windows 7 phone
Facebook privacy: eight ways to protect yourself

Photography Contest
All visitors are invited to submit photographs (no limit!) to be considered for the Photography Contest! The contest will begin April 1 and will run through May 31st. As submissions are received, they will be added to the Photography Contest Gallery. Voting will be for favorite photographers.
Email Photographs
Photography Contest Gallery.

May Madness - Corning Car Show
The Corning Chamber of Commerce presents the 14th Annual Corning Classic Car Show - May Madness Show, Shine, and Cruise! May 7th and 8th.

FRIDAY Registration: 3 PM - 5:30 PM (at Transportation Center); Cruise: 5:30 PM (from Transportation Center to Corning Ford; Car Show Mixer: 6 PM to 8 PM (at Corning Ford).

SATURDAY Registration: 7 AM to 10 AM (at Transportation Center); Pancake Breakfast: 7 AM to 10 AM (at the Fire Hall); Show & Shine: 7 AM to 4 PM (along Solano Street); Car & Motorcycle Swap Meet: 7 AM to 4 PM; 4X4 Slow Drag: 9 AM to 10 AM; Vendors, Food, and Fun: 10 AM to 4 PM; Low Rider Hydraulic Show: 10 AM to 11 AM; 1st Round of Burn-outs: Skateboard Exhibition: 10 AM to 2 PM; 11 AM to 12 PM; 4X4 R.T.I. Ramp: 12 PM to 12:30 PM; Burn-out Finals: 12:30 PM; Raffle Drawing: 12 PM to 3 PM; Awards Presentation: 3 PM.

Corning Skatepark Association
Be certain to visit the new Corning Skatepark Association Web Site!