Somebody's Watching You - new speed cameras trap motorists from space
Net Result - man goes berzerk, stabs five relatives, kills two, when Internet access cut
I Feel the Earth Move - Iranian cleric: Promiscuous women cause quakes

On this day in history: April 20, 1999 -After their homemade time bombs fail to detonate in the school cafeteria, the heavily-armed duo of Eric Harris and Dylan Klebold decide to prowl through Columbine High School, indiscriminately gunning down classmates. A total of 15 are killed in their shooting spree.

Born on this day in history: April 20, 1923 - Tito Puente (1923 - 2000) Growing up in Spanish Harlem helped Tito Puente find the inspiration for his special fusion of Latin and jazz music. After founding the Tito Puente Orchestra in 1948, Puente became a music sensation. His more than 100 albums and 200 compositions won him five Grammys and earned him the title "The King of Latin Music."

Scripture of the Day: Where, O death, is your victory? Where, O death, is your sting? The sting of death is sin, and the power of sin is the law. But thanks be to God! He gives us the victory through our Lord Jesus Christ. - 1 Corinthians 15:55-57

Video of the Day: The Turtleman - submitted by Frank


Imagine my surprise when I encountered this scene while passing through Walmart on the way to my office this morning! Click to enlarge.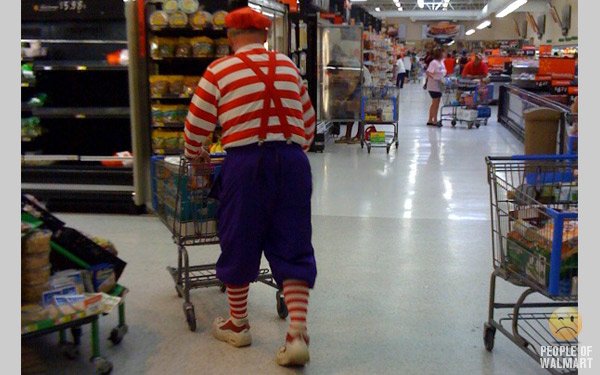 Technology News
Hackers breached Google's password system
Malware masquerading as Google Chrome extension
Microsoft Office 2010 reaches RTM, business launch May 12

Photography Contest

All visitors are invited to submit photographs (no limit!) to be considered for the Photography Contest! The contest will begin April 1 and will run through May 31st. As submissions are received, they will be added to the
Photography Contest Gallery.

Voting will be for favorite photographers. Details will follow.

To submit entries, please send them to me as email attachments. You may use the email link below to initiate an email message to me. Simply attach the images you wish to enter to your message.

Email Photographs

Please feel free to edit, crop, and enhance the entries as you wish. You may submit the entries in any resolution.

Photography Contest Gallery.

The Weather
Great Scott! Yesterday began a bit overcast but became sunny and pleasant by late morning. In the late afternoon, the wind began howling, and the rain began falling. During the night, the wind abated significantly, but the rainfall increased greatly. This may be the wettest day of 2010 to date! YIKES!