Fruit of the Vine - Billionaire suing Christie's over wine supposedly owned by Thomas Jefferson
To Protect and Serve - police officers accused of using Taser on 10-year-old boy
Faith under Fire - Judge says seizing "Million Dollar Bill" tracts illegal

On this day in history: April 1, 1996 - Wilson Pickett arrested for possession of cocaine, after a screaming, bloodied woman is seen running from his house.

Born on this day in history: April 1, 1932 - Debbie Reynolds (1932 - ) Born Mary Frances Reynolds in El Paso, TX, actress Debbie Reynolds gained notice in musical The Daughter of Rosie O'Grady (1950), and is best known for Singin' in the Rain (1952), opposite Gene Kelly. In 1964, she won an Oscar for The Unsinkable Molly Brown. In later years, Reynolds has split her time among stage, screen and TV appearances.

Scripture of the Day: The fool says in his heart there is no God. — Psalm 14:1

Video of the Day: Tanner Foust Street Drift: Mulholland - submitted by Frank


Imagine my surprise when I encountered this scene while passing through Walmart on the way to my office this morning! Click to enlarge.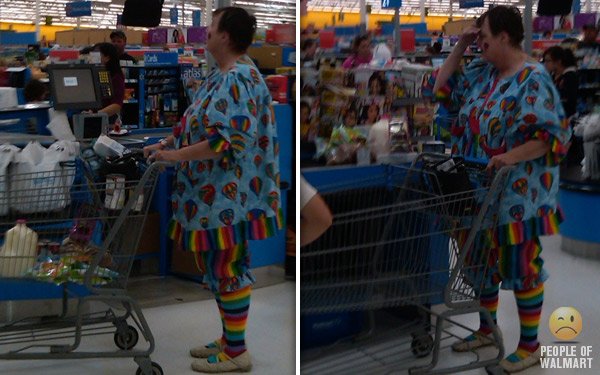 Technology News
It's that time again!

As many of you know, each year the Internet must be shut down for 24
hours in order to allow us to clean it. The cleaning process, which
eliminates dead email and inactive ftp, www and gopher sites, allows
for a better working and faster Internet.

This year, the cleaning process will take place from 12:01 a.m.. GMT
on April 1 until 12:01 a.m. GMT on April 2 (the time least likely to
interfere with ongoing work). During that 24-hour period, five
powerful Internet search engines situated around the world will
search the Internet and delete any data that they find.

In order to protect your valuable data from deletion we ask that you
do the following:

1. Disconnect all terminals and local area networks from
their Internet connections.

2. Shut down all Internet servers, or disconnect them from
the Internet.

3. Disconnect all disks and hard drives from any connections
to the Internet.

4. Refrain from connecting any computer to the Internet in
any way.

We understand the inconvenience that this may cause some Internet
users, and we apologize. However, we are certain that any
inconveniences will be more than made up for by the increased speed
and efficiency of the Internet, once it has been cleared of
electronic flotsam and jetsam.

We thank you for your cooperation.

Kim Dereksen
Network Information Center
Network Solutions, Inc.
Reston, Virginia


Photography Contest

Voting:
With the count at 27 in favor of voting for photographers—not individual photographs—and two voting against voting in that manner, I have decided that voting will be made on the basis of photographers' bodies of work.

All visitors are invited to submit photographs (no limit!) to be considered for the Photography Contest! The contest will begin April 1 and will run through May 31st. As submissions are received, they will be added to the Photography Contest Gallery. I will set up a voting system, whereby visitors may vote for their favorites. This will be in place by the end of the contest.

To submit entries, please send them to me as email attachments. You may use the email link below to initiate an email message to me. Simply attach the images you wish to enter to your message.

Email Photographs

Please feel free to edit, crop, and enhance the entries as you wish. You may submit the entries in any resolution.

Photography Contest Gallery.