Fighting Back - 89-year-old woman puts .22 caliber stop to intruder's break-in
For Whom the Bell Tolls - court blasts Phoenix ordinance banning church bells
The Taxman - IRS agent didn't report $41842 in eBay sales

On this day in history: April 23, 1985 - The Coca-Cola Bottling Company announces that it has irrevocably changed the formula for its flagship beverage, unveiling "New Coke." The company stands firm on its decision until public pressure finally forces them to reintroduce the original drink, exactly 79 days later.

Born on this day in history: April 23, 1936 - Roy Orbison (1936 -1988) Born in Vernon, TX, singer-songwriter Roy Orbison began playing at age 8 on radio stations, and had his first hit single, "Only The Lonely" (written for Elvis Presley), in 1960, followed by a succession of smash hits, including signature "Oh, Pretty Woman" (1964).

Scripture of the Day: It is written, "As surely as I live," says the Lord, "every knee will bow before me; every tongue will confess to God." - Romans 14:11

Video of the Day: Orkin Commercial - Couch Delivery


Imagine my surprise when I encountered this scene while passing through Walmart on the way to my office this morning! Click to enlarge.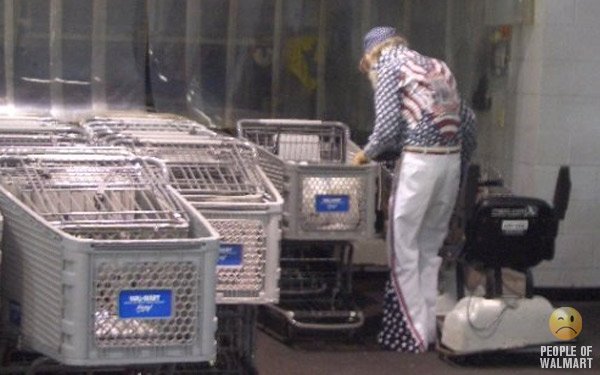 Technology News
Windows 7 drives Microsoft to profit, record revenue
Strong PC sales boost Microsoft's bottom line
Microsoft taps free Windows 7 Touch Pack

Photography Contest

All visitors are invited to submit photographs (no limit!) to be considered for the Photography Contest! The contest will begin April 1 and will run through May 31st. As submissions are received, they will be added to the Photography Contest Gallery.

Voting will be for favorite photographers. Details will follow.

To submit entries, please send them to me as email attachments. You may use the email link below to initiate an email message to me. Simply attach the images you wish to enter to your message.

Email Photographs

Please feel free to edit, crop, and enhance the entries as you wish. You may submit the entries in any resolution.

Photography Contest Gallery.


May Madness - Corning Car Show
The Corning Chamber of Commerce presents the 14th Annual Corning Classic Car Show - May Madness Show, Shine, and Cruise! May 7th and 8th.

FRIDAY Registration: 3 PM - 5:30 PM (at Transportation Center); Cruise: 5:30 PM (from Transportation Center to Corning Ford; Car Show Mixer: 6 PM to 8 PM (at Corning Ford).

SATURDAY Registration: 7 AM to 10 AM (at Transportation Center); Pancake Breakfast: 7 AM to 10 AM (at the Fire Hall); Show & Shine: 7 AM to 4 PM (along Solano Street); Car & Motorcycle Swap Meet: 7 AM to 4 PM; 4X4 Slow Drag: 9 AM to 10 AM; Vendors, Food, and Fun: 10 AM to 4 PM; Low Rider Hydraulic Show: 10 AM to 11 AM; 1st Round of Burn-outs: Skateboard Exhibition: 10 AM to 2 PM; 11 AM to 12 PM; 4X4 R.T.I. Ramp: 12 PM to 12:30 PM; Burn-out Finals: 12:30 PM; Raffle Drawing: 12 PM to 3 PM; Awards Presentation: 3 PM.