Brave New Schools - Sweden to join Germany in persecuting homeschoolers?
Animal Kingdom - world's smallest horse weighs less than a newborn baby
The Air up There - world's tallest teen girl nearly 7'

On this day in history: April 27, 1986 - During a live TV special, journalist Geraldo Rivera opens Al Capone's vault beneath the Lexington Hotel in Chicago. He finds nothing inside, apart from a few empty bottles.

Born on this day in history: April 27, 1927 - Coretta Scott King (1927 - 2006) Civil rights activist Coretta Scott King may be best known as widow of slain leader Martin Luther King, Jr. She also had a distinguished career in activism in her own right. After her husband's death, King worked at the Martin Luther King, Jr. Center for Nonviolent Social Change in Atlanta, and was a TV commentator on CNN.

Scripture of the Day: The Son of Man came to seek and to save what was lost. — Luke 19:10

Video of the Day: - A Tiny Apartment Transforms into 24 Rooms - submitted by Danica


Imagine my surprise when I encountered this scene while passing through Walmart on the way to my office this morning! Click to enlarge.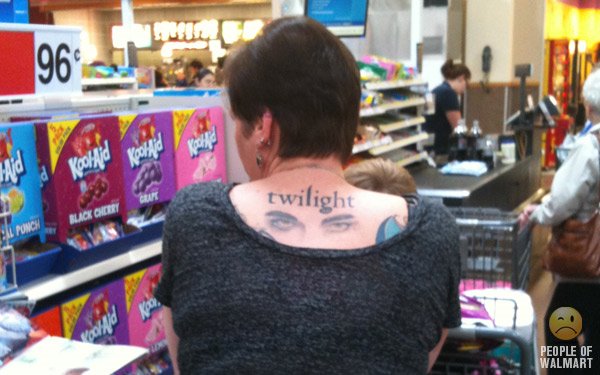 Photography Contest
All visitors are invited to submit photographs (no limit!) to be considered for the Photography Contest! The contest will begin April 1 and will run through May 31st. As submissions are received, they will be added to the
Photography Contest Gallery. Voting will be for favorite photographers.
Email Photographs
Photography Contest Gallery.

May Madness - Corning Car Show
The Corning Chamber of Commerce presents the 14th Annual Corning Classic Car Show - May Madness Show, Shine, and Cruise! May 7th and 8th.

FRIDAY Registration: 3 PM - 5:30 PM (at Transportation Center); Cruise: 5:30 PM (from Transportation Center to Corning Ford; Car Show Mixer: 6 PM to 8 PM (at Corning Ford).

SATURDAY Registration: 7 AM to 10 AM (at Transportation Center); Pancake Breakfast: 7 AM to 10 AM (at the Fire Hall); Show & Shine: 7 AM to 4 PM (along Solano Street); Car & Motorcycle Swap Meet: 7 AM to 4 PM; 4X4 Slow Drag: 9 AM to 10 AM; Vendors, Food, and Fun: 10 AM to 4 PM; Low Rider Hydraulic Show: 10 AM to 11 AM; 1st Round of Burn-outs: Skateboard Exhibition: 10 AM to 2 PM; 11 AM to 12 PM; 4X4 R.T.I. Ramp: 12 PM to 12:30 PM; Burn-out Finals: 12:30 PM; Raffle Drawing: 12 PM to 3 PM; Awards Presentation: 3 PM.

Corning Skatepark Association
Be certain to visit the new Corning Skatepark Association Web Site!