Stupid Criminals - identity theft steals ID of murder suspect
Invasion USA - Arizona passes strict immigration-enforcement bill
Matters of Life and Death - new laws in Nebraska put restrictions on abortions

On this day in history: April 14, 1865 - President Abraham Lincoln receives a cranial gunshot wound from the nation's most famous actor, John Wilkes Booth. Lincoln dies the following day, primarily from ill-advised attempts to extract the bullet lodged in his brain.

Born on this day in history: April 14, 1935 - Loretta Lynn (1935 - Country music superstar Loretta Lynn grew up in a poor coal mining town, and married at the age of 13. Her more than 40-year career began in 1956 with hit songs such as "I'm a Honky Tonk Girl," and "Coal Miner's Daughter." In 2005, her collaboration with rocker Jack White won her another Grammy, and introduced her music to a new audience.

Scripture of the Day: I want to remind you of the gospel I preached to you... that Christ died for our sins according to the Scriptures, that he was buried, and that he was raised on the third day according Scriptures. — 1 Corinthians 15:1-4

Video of the Day: 2010 Dodge Challenger Furious Fuchsia Limited Editions - submitted by Darin


Imagine my surprise when I encountered this scene while passing through Walmart on the way to my office this morning! Click to enlarge.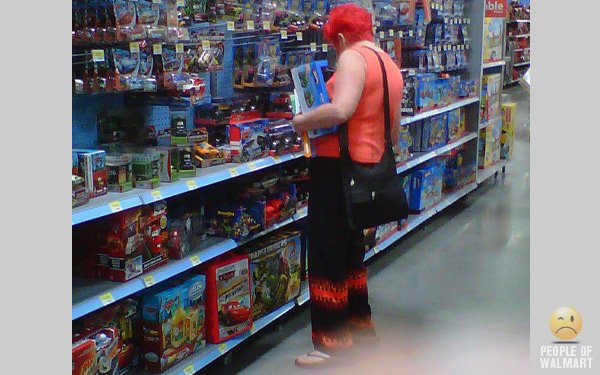 Technology News
Facebook updates safety center
Microsoft patches fix 25 vulnerabilities
88 percent of firms show Zeus botnet activity

Photography Contest

All visitors are invited to submit photographs (no limit!) to be considered for the Photography Contest! The contest will begin April 1 and will run through May 31st. As submissions are received, they will be added to the
Photography Contest Gallery.

Voting will be for favorite photographers. Details will follow.

To submit entries, please send them to me as email attachments. You may use the email link below to initiate an email message to me. Simply attach the images you wish to enter to your message.

Email Photographs

Please feel free to edit, crop, and enhance the entries as you wish. You may submit the entries in any resolution.

Photography Contest Gallery.