That Takes the Cake! - 123-pound cannoli awaiting recognition by Guinness
Funds Unavailable - Pasco man accused of trashing ATM that ate his card
Animal Kingtom - drunk baboons plague Cape Town's exclusive suburbs

On this day in history: August 30, 1859 - At the University of Göttingen, PhD candidate Albert Niemann isolates the alkaloid C17H21NO4 from leaves of the plant Erythroxylum coca. Niemann names his white, powdery discovery "cocaine" and observes firsthand its peculiarly strong anesthetic effect: "it benumbs the nerves of the tongue, depriving it of feeling and taste."

Born on this day in history: August 30, 1930 - Warren Buffett (1930 - ) Omaha, Nebraska, businessman Warren Buffett showed his knack for finance at 11 years old, when he made his first stock investment. His future successes made him the richest man in the world, and earned him the nickname "Oracle of Omaha." In 2006, he gave 83 percent of his wealth to charity, making it the largest charitable donation in history.

Scripture of the Day: "You are no longer foreigners and aliens, but fellow citizens with God's people and members of God's household." — Ephesians 2:19

Video of the Day: Shriners at Corning Olive Festival 2010 - video captured by David with his Motorola Droid X


Imagine my surprise when I encountered this scene at Walmart while journeying to my office this morning! Click to enlarge.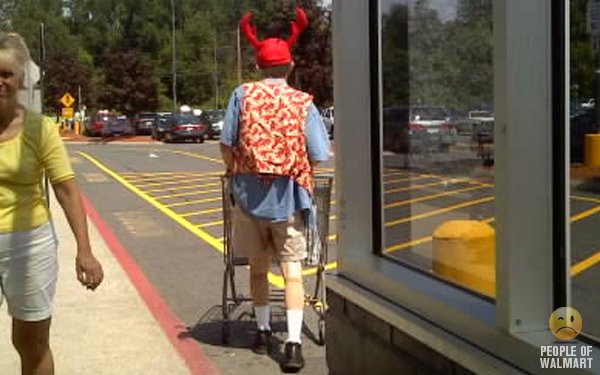 Technology News
Hands-on with Google Realtime Search
Thinking about solar? It's easier to start small
World's most amazing subwoofer has no woofer



Re-elect Mayor Gary Strack!
Read Mayor Strack's Backgroundand Campaign Platform!
SUBSCRIBEto the Re-elect Gary Strack Mailing List!

New blogs I recommend!

The Greatest Adventure - this is a new blog created by reader Nikole that documents her walk with God.

Tales of Tails - this is a new blog created by reader Chris that follows the daily exploits of his cat, Tails.

Life's History through a Smartphone - this is a new blog created by reader Admiral that spotlights his Motorola Droid X.