The Naked Truth - nudity on Sears Web site called "deliberate brain damage"
South of the Border - Mexican cartels move beyond drugs, seek domination
Small Business - Portland health inspectors shut down 7-year-old's lemonade stand, demand $120 for license

On this day in history: August 6, 1970 - 750 unkempt Yippies show up at Disneyland, hell-bent "to liberate Minnie Mouse, have free rein of the park and infiltrate Tom Sawyer's Island," according to Youth International Party leaflets. Instead, they wind up scuffling with Disney security and other patrons, eventually prompting Anaheim police to close the park early and forcibly eject the dirty longhairs.

Born on this day in history: August 6, 1928 - Andy Warhol (1928 - 1987) Artist Andy Warhol was a founder of the 1960s Pop Art movement. His Campbell's Soup can paintings made him a celebrity, and his work and underground films were produced in a loft called "The Factory." In 1969, he launched fashion and gossip magazine "Interview," and then created best-selling silkscreen portraits of international personalities.

Scripture of the Day: All your words are true; all your righteous laws are eternal. — Psalm 119:160

Video of the Day: - First Ascent Extreme Freeclimbing DVD-Trailer - submitted by Danica


Imagine my surprise when I encountered this scene at Walmart while journeying to my office this morning! Click to enlarge.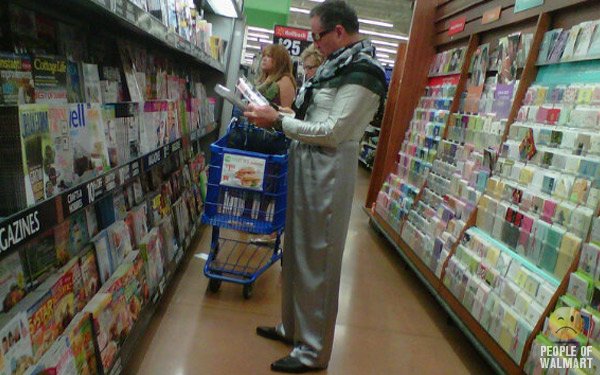 Technology News
Adobe preps out-of-band patches for Reader, Acrobat
Record 14 patches to come on Microsoft Patch Tuesday
Google adds multiple sign-in to Gmail