Fighting Back - Georgia judge shoots, kills home intruder
Fighting Back Too - off-duty cop shoots, kills home intruder
Animal Kingdom - crocodile found roaming streets of New York City

On this day in history: August 23, 1995 - Dwayne R. Goettel, member of industrial music band Skinny Puppy, dies of a heroin overdose in a bathroom at his parents' Edmonton, Alberta home.

Born on this day in history: August 23, 1978 - Kobe Bryant (1978 - ) Born in Philadelphia, Pennsylvania, the son of former NBA player Joe "Jellybean" Bryant, Bryant was raised in Italy, returning to the U.S. in 1991. In 1996, he was picked by Charlotte then traded to the Los Angeles Lakers, where he became, at 19, the youngest All-Star in NBA history.

Scripture of the Day: When I said, "My foot is slipping," your love, O Lord, supported me. When anxiety was great within me, your consolation brought joy to my soul. — Psalm 94:18-19

Video of the Day: Stone Story - produced by Laura Lynn Harter from video she captured of the Sunday service at Harvest Christian Center. She used her Motorola Droid X to capture the video and AVS Video Editor 4 to crop the video that you see here. NOTE: Be certain to view this video in 720P HD format, if your system and Internet connection allow this!


Imagine my surprise when I encountered this scene at Walmart while journeying to my office this morning! Click to enlarge.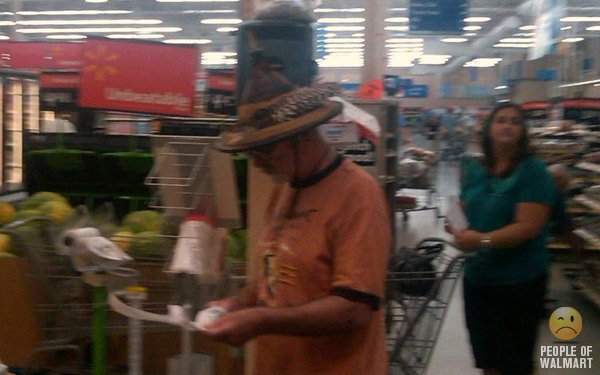 Technology News
Apple patent targets iPhone thieves, jailbreakers too?
Jobs promises iOS 4 update for iPhone 3G "soon"
Motorola sends C&Ds to leaked Android 2.2 hosts
Firefox 4 beta 4 hits Hits Monday With unlockable hardware acceleration
Consumers want their tablets; some looking beyond iPad



New blogs I recommend!
I highly recommend these three new blogs:

The Greatest Adventure - this is a new blog created by reader Nikole that documents her faith in God.
Tales of Tails - this is a new blog created by reader Chris that follows the daily exploits of his cat, Tails.
Life's History through a Smartphone - this is a new blog created by reader Admiral that spotlights his Motorola Droid X.

The New Look!

Thank you for your patience. Today began with a whimper and quickly went downhill from there! I accidentally hit the wrong breaker switch when I arrived here this morning--managing to shut down Hal (my main workstation) the Android Live display system, and all the audio and video gear.

By the time I got everything going, clients began their time vampirism!

I had intended to begin the redesign of the blog today and had fully intended to have it completed by 9 AM. Obviously, I did not meet this target time.

The basics are in place now. Throughout the balance of the day (and, most likely, well into tomorrow) I shall be reconfiguring the CATCam and other features.

Thank you for your patience, and I hope you enjoy the new look!