Get a Wiggle On! - worm-charming festival fails to catch a single specimen
Quiet! - students at Lincoln Memorial told to stop singing National Anthem
Going to Pot - thousands flock to Bay Area for marijuana convention

On this day in history: August 10, 1969 - Leno and Rosemary LaBianca are brutally murdered in their Los Feliz, California home by followers of Charles Manson. They take some of their victims' blood and smear HEALTER SKELTER on the refrigerator door.

Born on this day in history: August 10, 1960 - Antonio Banderas (1960 - ) Born in Málaga, Spain, actor Antonio Banderas got his start working with film director Pedro Almodóvar, which led to a starring role in Philadelphia with Tom Hanks (1993) and international success. Banderas is married to actress Melanie Griffith

Scripture of the Day: God is our refuge and strength, an ever-present help in trouble. — Psalm 46:1

Video of the Day: Geico Commercial - "Bird in Hand" - submitted by Amber


Imagine my surprise when I encountered this scene at Walmart while journeying to my office this morning! Click to enlarge.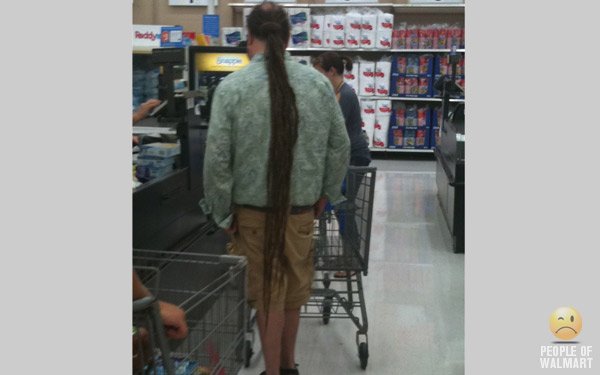 Technology News
Google, Verizon Net Netrality plan exempts wireless
FCC shuts down domain name registration scam
Kernel-level hole in Windows reported
Craigslist asked to shut down "adult services" section

Coincidences can be so coincidental!

I changed the wallpaper on my Droid X to this scrolling wallpaper theme (the Droid X allows wallpaper to scroll across an image when changing from screen to screen--allowing an image to 'stretch across' all the screens) prior to leaving for my office this morning.

When I arrived at my office and turned on the 37" Vizio LCD HDTV and DirecTV DVR, a beach scent eerily similar to my newly-chosen wallpaper was the background for a report on the Gulf fishing industry!