South of the Border - proposed Florida immigration law goes "one step further" than Arizona law
To Protect and Serve - Oklahoma Bureau of Narcotics agent arrested for alleged firearms sales to Mexican cartels
Insufficient Funds - thousands of online banking customers have accounts emptied by "most dangerous Trojan virus ever created"

On this day in history: August 11, 1997 - Responding to reports of a domestic disturbance at the L'Elysee condominiums in West Los Angeles, LAPD officers encounter Christian Slater "swinging his arms and yelling incoherently" in the building stairwell. The movie actor reveals to police that "the Germans are coming and they will kill us." He also mentions that he has been awake for most of two days, and the last thing he remembers is "snorting a couple of lines of cocaine this morning." When officers attempt to put him in handcuffs, Slater knocks one of them to the floor and makes an unsuccessful grab for the cop's weapon. His punishment? 59 days in jail.

Born on this day in history: August 11, 1921 - Alex Haley (1921 - 1992) Originally a member of the Coast Guard, Alex Haley began writing to avoid boredom during long bouts at sea. His 1976 book Roots: The Saga of an American Family, which followed the lives of Haley's African ancestors, questioned the relationships between races and brought the author to the forefront of American consciousness.

Scripture of the Day: I rejoice in following your statutes as one rejoices in great riches. — Psalm 119:14

Video of the Day: Determined Gym Teacher on the Course - Wipeout! - submitted by Cindy


Imagine my surprise when I encountered this scene at Walmart while journeying to my office this morning! Click to enlarge.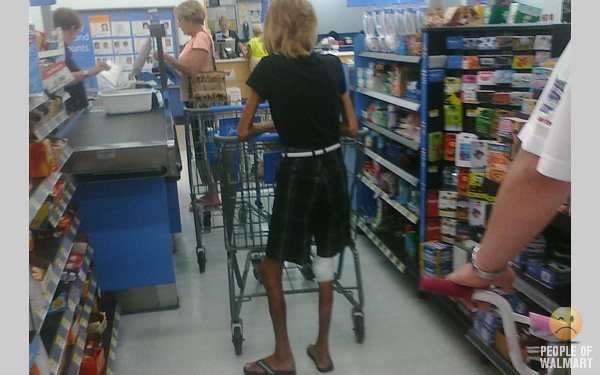 Technology News
Google: New Android feature coming tomorrow
Google redesigns Gmail contacts
Microsoft uploads massive patch to users