Birria - (Please see Sunday's post for imagery and ingredients for this wonderful dish!) Last evening, we enjoyed burritos made from the birria Laura produced earlier that day. It was absolutely amazing! We ate with great relish, and still there remains a great quantity for future meals! Laura enjoys tending to the pot while creating such wonderful food, so I am petitioning her to make birria often—beef, pork, and chicken—and maintain a goodly supply in the freezer for easy access whenever we wish to enjoy one of the many uses to which this wonderful food can be put!

"My Name Is Earl" - A few days ago, I (reluctantly...nervously... anticipatorily) shared with Laura that I had become a devotée of "My Name Is Earl." She was incredulous—very nearly as incredulous as I had been when I admitted this to myself!

I cannot recall how I came to first view an episode, but I am relatively certain it was by accident. For some reason, I had always imagined it to be a reality show—such as are rife on television these days. With the exception of "Cops," I eschew all such shows with a vigor not generally associated with choosing television programming.

Once I had seen a few minutes of the pilot, however, I quickly determined that this was a show that I would thoroughly enjoy!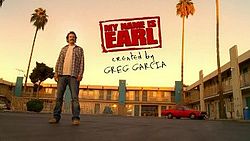 "My Name Is Earl" is an American television comedy series created by Greg Garcia that was originally broadcast on the NBC television network from September 20, 2005, to May 14, 2009, in the United States. It was produced by 20th Century Fox Television and starred Jason Lee as the title character.

Most episodes from the first season, then only a few from the rest, begin with Earl presenting the premise of the series:

"You know the kind of guy who does nothing but bad things and then wonders why his life sucks? Well, that was me. Every time something good happened to me, something bad was always waiting round the corner: karma. That's when I realized that I had to change, so I made a list of everything bad I've ever done and one by one I'm gonna make up for all my mistakes. I'm just trying to be a better person. My name is Earl."

The series stars Jason Lee, Ethan Suplee, Jaime Pressly, Eddie Steeples and Nadine Velazquez (Lee and Suplee had also worked together on the film Mallrats more than ten years prior).

Earl J. Hickey (Lee) is a petty criminal and ne'er-do-well, living in the fictional rural county of Camden, whose winning $100,000 lottery ticket is lost when he is hit by a car while he celebrates his good fortune. Lying in a hospital bed, under the influence of morphine, he develops a belief in the concept of karmic retribution when he hears about karma during an episode of Last Call with Carson Daly. Convinced he has to turn his life around to survive, Earl gives himself over to the power of karma. As his first step of a makeshift twelve-step program to fix his misdeeds, Earl makes a list of every bad thing and every person he has wronged and commences efforts to fix them all. After doing a first good deed, he finds the $100,000 lottery ticket that was previously lost. Seeing this as a sign of karma rewarding him for his commitment, Earl uses his newfound wealth to do more good deeds according to his list.

As he continues to perform good deeds, Earl's motives initially come across as shallow and selfish—that he is only doing good to improve his karma and by extension his own life. However, Earl begins to develop a genuine sense of morality and ethics, refusing to participate in illegal or immoral activities—though sometimes finding himself in very awkward situations.

In many cases, Earl discovers that his crimes and misdemeanors had far more repercussions than he could have imagined, and that complete fixes in those cases would require far more trial and effort than could have been imagined. Yet he would also find that repairs would also have deeper and more layered results as well, bringing the realm of the show into the religious and spiritual as well as comedic.

The series generally ended its episodes with Earl and Randy talking about things that have nothing to do with the rest of the show before saying good night and turning in for a night's sleep. In many cases, these conversations take place in their shared motel room bed.

I asked Laura to watch just one episode before declaring that I had gone fully mad, and—sweet woman that she is, she agreed!

We watched an episode named "The Bounty Hunter," in which Juliette Lewis plays the girl Earl dumped for Joy years earlier. Jessie has become a bounty hunter and tries to track Joy down. Earl feels responsible for the mess, until Joy tells him how they really hooked up.

Laura immediately fell under the thrall of "My Name is Earl," and we make viewing a few episodes a nightly ritual!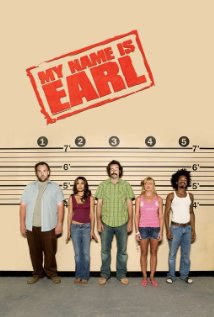 Notable guest stars:

Trace Adkins
David Arquette
Sean Astin
Dave Attell
Roseanne Barr
Barbara Billingsley
Ewen Bremner
Brett Butler
Larry Joe Campbell
Duane Chapman
Gil Christner
Carson Daly
Charles S. Dutton
Jenna Elfman
Erik Estrada
Morgan Fairchild
Jon Favreau
Faith Ford
Leo Fitzpatrick
Ben Foster
Courtney Gains
Johnny Galecki
Danny Glover
Adam Goldberg
Seth Green
Kadeem Hardison
Jon Heder
Paris Hilton
Clint Howard
Eric Allan Kramer
John Leguizamo
Juliette Lewis
Faizon Love
Jane Lynch
Jenny McCarthy
Norm Macdonald
Howie Mandel
Marlee Matlin
Alyssa Milano
Katy Mixon
Chloë Grace Moretz
Niecy Nash
Timothy Olyphant
Andrea Parker
Jason Priestley
Michael Rapaport
Burt Reynolds
Geraldo Rivera
Chelcie Ross
Amy Sedaris
Jane Seymour
Dax Shepard
Jimmi Simpson
Christian Slater
Kevin Sussman
Christine Taylor
Michael Teutul
Paul Teutul, Jr.
Paul Teutul, Sr.
Melody Thomas Scott
Joan Van Ark
Jerry Van Dyke
Miguel Varoni
Michael Waltrip
John Waters
Betty White
Matthew Willig