Fighting Back - Amber Alert and sharp-eyed citizen help save missing girl in California
To Protect and Serve - two cops accused with robbing undercover officer
Somebody's Watching You - murder captured by Google Street View car

On this day in history: October 6, 1977 - Kenneth Bianchi and Angelo Buono, Jr., Los Angeles' infamous "Hillside Stranglers," rape and murder their first victim, 21-year-old waitress Elissa Kastin. They dump her naked corpse on Chevy Chase Drive.

Born on this day in history: October 6, 1905 - Helen Wills Moody (1905 - 1998) Born in Centerville, California, tennis player Helen Wills dominated women's tennis from 1927-1939, winning her first U.S. women's singles title in 1923. In total, she won 31 Grand Slam titles.

Scripture of the Day: Trust in the Lord forever, for the Lord, the Lord is the Rock Eternal. — Isaiah 26:4

Video of the Day: Soggy Bottom Boys-In The Jail House Now - submitted by Amber

Imagine my surprise when I encountered this scene at
Walmart while journeying to my office this morning! Click to enlarge.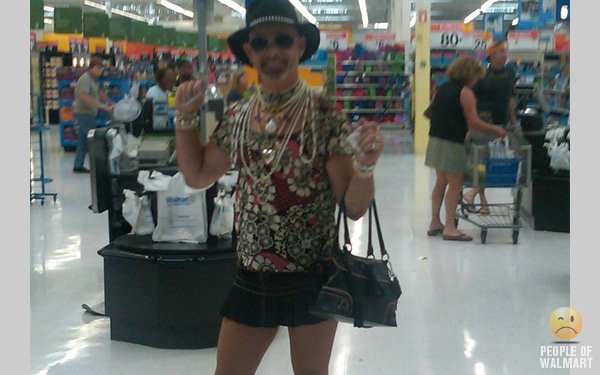 Technology News
Ballmer promises Windows-based tablet by Christmas
Opera Mini Web browser coming to Verizon phones
Foursquare explains 11-hour outage, then crashes again
Adobe fixes 23 vulnerabilities in Reader, Acrobat
WD hits 3TB with USB 3.0 external drives
Google tries for Android sequel with Google TV

Political Musings
I generally eschew discussions specific to my philosophical and political positions. I feel constrained to do so this morning, however, to do precisely this—following my viewing of an episode of "Hannity" on the Fox News Channel.

Frank Luntz* appeared, with a focus group from California. The focus group responded to a video of California governor candidates Meg Whitman and Jerry Brown. I found the overall responses from pro-Brown members of the group to be unconscionably insipid and nearly completely without substantive merit. Without exception, their position was that Meg Whitman had somehow subverted immigration statutes, in general, and her own stated immigration position, in particular. They appeared to have no understanding whatever of the facts in the matter, and—when presented with the facts—were comfortable with their ignorance and unchanged by the facts!

The facts: Meg Whitman employed her former maid, Nicky Diaz Santillan, through a commercial employment agency. Whitman told the employment agency that it was requisite that prospective hires be fully legal residents. Santillan presented a California driver's license and Social Security Card as proof of her legal residency. These documents were obtained fraudulently by Santillan. Whitman had no way of knowing this, of course. When it came to Whitman's attention that Santillan was not legally documented, she discharged her.

The facts held no interest whatever for the pro-Brown group participants—although pro-Whitman members deemed the facts to be substantive and of considerable importance. One pro-Brown member in fact—a schoolteacher, in fact!—stated that she could understand what Santillan did and, in fact, would do "…whatever it takes…" to ensure her employment and her ability to care for her family. When pro-Whitman members asked her directly whether her statement meant that she would break laws (as Santillan had clearly done!), she skirted the question and repeated only, "…whatever it takes…" This prompted a pro-Whitman member to say that breaking the law made Santillan a criminal and that anyone doing similarly would be culpable, as well. At this point, another pro-Brown member echoed the "…whatever it takes…" position, and several nodded or otherwise indicated agreement.

I find it absurdly dishonest and patently immoral to take the position that it is somehow acceptable conduct to overtly break laws under the guise of personal necessity. Were this to be acceptable, it would be a lawless world in which we live—where personal needs are precedent and, therefore, supplant criminal law!
Santillan said she is not a Democratic pawn in California's race for governor, but her attorney refused again to provide key details about her claims that Whitman employed her for nearly a decade despite knowing she was in the U.S. illegally.

"I make my own decisions and I am not anyone's puppet," Diaz Santillan said in a prepared statement she read at the Los Angeles office of her attorney, Gloria Allred.
Allred, who has longtime Democratic ties and donated money to Brown when he ran for attorney general , has yet to disclose details about how she became involved in the case or disclose who, if anyone, is picking up the bill for her legal work.

Allred says Santillan was referred to her by another lawyer, whom she will not name. Allred did not answer directly when asked if that lawyer had ties to Whitman's opponent, Democrat Jerry Brown, or his Democratic allies.

Allred also sidestepped a question about whether she had any contact with labor unions working to get Brown elected.

"I'm not going to play any kind of guessing game," Allred said. When asked about a union link, she said she would need more details before responding.

Santillan has not taken a single question from reporters during three public appearances since last week.

In my opinion, (based upon my scrutiny of her past), Gloria Allred is, at best, an attention-seeking ambulance chaser and, at worst, a dishonest, self-serving caricature of herself.

Frank I. Luntz (born February 23, 1962) is an American political consultant and pollster. His most recent work has been with the Fox News Channel as a frequent commentator and analyst, as well as running focus groups after presidential debates. Luntz's specialty is "testing language and finding words that will help his clients sell their product or turn public opinion on an issue or a candidate. He is also an author of business books dealing with communication strategies and public opinion. Luntz's current company, The Word Doctors, specializes in message creation and image management for commercial and political clients.