No Parking - car plunges through barrier, lands on roof of house after driver fails to set handbrake
The Kid's Alright - teen falls 16 stories, now up and about
Make a Run for the Border - illegals flee Arizona ahead of crackdown

On this day in history: July 27, 2002 - A Sukhoi SU-27 fighter crashes and explodes at an air show in the Ukraine, killing 78 and injuring more than 100 others. It is the worst airshow crash in history. The two pilots ejected and survived.

Born on this day in history: July 27, 1943 - Peggy Fleming (1948 - ) Born in San Jose, California, ice skater Peggy Fleming won the world championship three times, plus an Olympic gold in 1968. She went on to become an ABC-TV commentator.

Scripture of the Day: Since we are surrounded by such a great cloud of witnesses, let us throw off everything that hinders and the sin that so easily entangles, and let us run with perseverance the race marked out for us. - Hebrews 12:1

Video of the Day: Zeus and Thor at Play #1


Imagine my surprise when I encountered this scene at Walmart while journeying to my office this morning! Click to enlarge.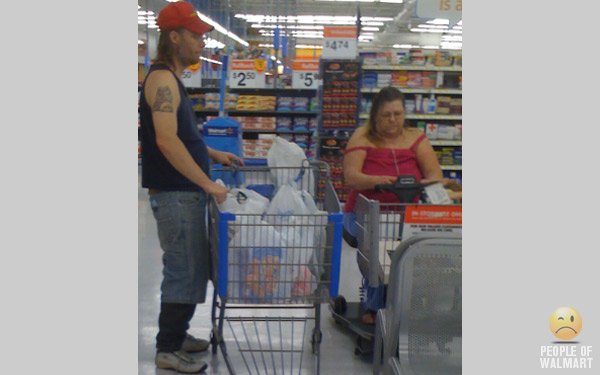 Technology News
Apple's Droid X "death grip" claim: Bogus
Wi-Fi WPA2 security hole found
Copyright Office: Jailbreaking an iPhone is fair use
What the iPhone jailbreak ruling means (FAQ)
Google Apps gets a government version
Standard set for universal wireless charger