No Honor Among Thieves - Phoenix home invader shot by robbers already in home
Don't Tase Me Bro! - cop tasers anther cop in off-duty spat
Can You Hear Me Now? - Apple engineer told Jobs iPhone antenna might cut calls

On this day in history: July 16, 1998 - An inattentive deputy sheriff in Lafayette, IN, drives his automobile into the stolen tombstone of actor James Dean. The 400 pound tombstone, which was stolen two days prior from Dean's gravesite at Park Cemetery (and later abandoned on a country road), rips the transmission out of the deputy's vehicle

Born on this day in history: July 16, 1967 - Will Ferrell (1967 - ) Born in Irvine, California, the son of Righteous Brothers keyboard player Lee Ferrell, actor-comedian Will Ferrell began comedy shtick in high school. He joined The Groundlings, a Los Angeles improv troupe, and, in 1995, the cast of "Saturday Night Live." Ferrell has since moved into films.

Scripture of the Day: In Christ, all the fullness of the Deity lives in bodily form, and you have been given fullness in Christ, who is the head over every power and
authority. - Colossians 2:9-10

Video of the Day: New Apple Friend Bar Gives Customers Someone To Talk At About Mac


Imagine my surprise when I encountered this scene at Walmart while journeying to my office this morning! Click to enlarge.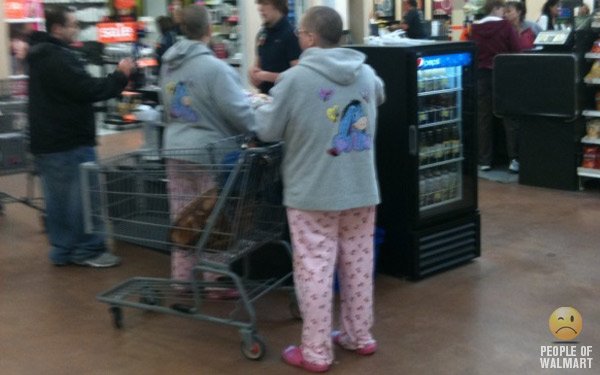 Technology News
Six ways to fix your iPhone 4's reception problems
Apple releases iOS 4.0.1, makes iPhone signal bars bigger
Schumer asks Apple for solution on iPhone 4 reception issue
What we know about the iPhone 4's antenna (FAQ)
Apple knew of iPhone issue
iPhone owners report iOS 4.0.1 installation errors
Android Market: 70,000 apps, 1 billion downloads

Best Buy Is Loathesome!
In late June, Chris pointed me to a news article that stated Best Buy was taking pre-orders on the Motorola Droid X, which was due to be available on July 15th. I contacted Best Buy in Chico and was assured I had pre-order numbers 2 and 3. In early July, I read that Best Buy had discontinued pre-orders. Shortly thereafter, I called to ensure that our pre-orders were still active. I was told they could not find a record of them and that they were not accepting pre-orders at that time. The following week, I called and was told they were accepting pre-orders. Laura went there and placed deposits on two Droid X units. We were given pre-order numbers 12 and 13. July 15th: Best Buy told Laura that they received an insufficient supply of Droid X phones to satisfy pre-orders. We held pre-orders number 12 and number 13. They are unable to tell me when these will be filled. They are expecting more phones next week but indicated that they cannot assure us that we will receive phones then. Laura asked whether Verizon might have Droid X units in stock. Best Buy assured Laura that Verizon had no inventory of Droid X units. On a whim I called Verizon: I spoke with Stephanie at Verizon in the 20th Street Mall in Chico. Stephanie held two Droid X units for Laura. Laura scampered to Verizon and acquired the phones. Stephanie set up our Gmail accounts, moved our phone numbers from AT&T, closed our AT&T accounts, and copied all our contacts from our iPhones to our Droid X phones.

Motorola Droid X
I received my Motorola Droid X yesterday. (See above article for details of this adventure.) I had intended to spend several hours with my Droid X and write an article comparing it and the Apple iPhone that I have been using for the last 18 months. Following five minutes of using the Droid X, I determined such a comparison would be unfair and unrealistic. Analogous to that comparison would be the comparison of Laura's new Dodge Challenger SE RS to the Toyota Yaris she previously owned. Similarly, it would be ludicrous to compare Verizon with AT&T—particularly since Verizon recently installed a new tower here in Corning. Instead, I shall simply give a report of the Droid X.

Thanks to Android's open ecosystem, the Droid X has countless options for customization. Much of the functionality comes from the ever-expanding Android Market, which features an uncensored and ever-expanding array of programs that let one make the most of one's Android experience. Currently, there are over 70,000 apps available, and there have been over 1 billion downloads.

The Android OS can navigate through directories, copy or move files, delete files—practically anything one could do within a PC-based file manager.

The Droid X has a large 4.3-inch screen. This is significant: One can see more content on Web pages, more video—more of everything. With the large screen, the onscreen keyboard is larger and considerably easier to see and use. The Droid X's screen is not just large: it is also brilliant and crisp. It is really enjoyable watching videos on it, reading MySpace and Facebook status updates from little on-screen widgets, checking email and browsing the Web. Colors look bright, and text is easy to read.

The Droid X can easily be used as a portable Wi-Fi Hot Spot and give multiple computers wireless access to the Internet.

With the Droid X, one can download whatever one wishes.

The Droid X offers Swype—a superb alternative keyboard that lets one quickly swipe one's finger across a keyboard, spelling words, rather than having to tap. It is amazingly fast and amazingly accurate.

The Droid X has an 8-megapixel camera capable of shooting HD video. The phone is also equipped with three microphones. Background noise cancelling while recording video is effectuated by the microphone system. Videos may be sent directly from the Droid X to YouTube.

The Droid X has Android 2.1 installed. Android 2.2 will be released for the Droid X early next month. Among other updates and enhancements, Android 2.2 will provide full support for Adobe Flash.

I deal with technology daily, and impressing me is not a simple matter. The Droid X impresses me greatly!