Animal Kingdom - parachuting donkey shocks Russian beachgoers
They're Here! - man hit by six meteorites is being "targeted by aliens"
Me Tarzan - Mexico arrests man with 18 monkeys around his waist

On this day in history: July 20, 1969 - On live television, the world watches as Neil Armstrong steps foot on the Moon.

Born on this day in history: July 20, 1947 - Carlos Santana (1947 - ) Born in Autlán de Navarro, Mexico, musician Carlos Santana began playing guitar at 8. In 1966, he formed the Santana Blues Band, and their debut album went triple platinum. Santana earned his first Grammy in 1987. A decade later, Santana won Grammys in every category, tying Michael Jackson's 1983 record.

Scripture of the Day: If we walk in the light, as he is in the light, we have fellowship with one another, and the blood of Jesus, his Son, purifies us from all sin. — 1 John 1:7

Video of the Day: Jay Leno and Craig Jackson pick up their Dodge Challengers


Imagine my surprise when I encountered this scene at Walmart while journeying to my office this morning! Click to enlarge.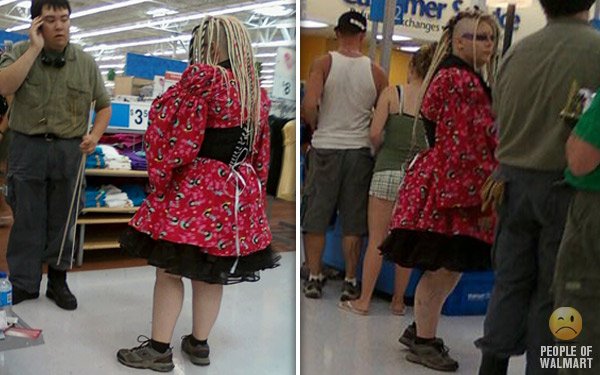 Technology News
Apple iTunes 9.2.1 fixes one critical hole
Will there be a Windows Vista Service Pack 3?
Sharp breaks the 100GB Blu-ray barrier
Adobe Reader to block attacks with sandbox technology

Motorola Droid X - Android 2.2 Update
The update from Android OS 2.1 to 2.2 went verysmoothly and very quickly this morning. A message appeared on my Droid X screen saying that an upgrade was available. I tapped "Download." I was then presented with a message that the update was downloaded. I tapped "Install," and the update installed, and the Droid X restarted.

Key features of Android OS 2.2 are:


Improved battery charging status indicator.

Smoother transition for camera and camcorder functions.

Redesign of weather widget icons.

Faster Exchange ActiveSync® email loading.

Streamlined organization of newly downloaded applications.

Organized favorite contacts by call count.

Updated Bluetooth® connection for enhanced video
sharing experience.

Coordinated date and time across phone displays.

Cleaner looking status bar for GPS symbol.

Improved sync capabilities for 3G Mobile Hotspot.

Faster Visual Voice Mail loading.

Take advantage of the enhanced, preloaded My Verizon application.

Preloaded Amazon Kindle® application lets you read Kindle books on
your AndroidTM phone, including thousands of free books