To Protect and Serve - DUI cop breaks fast at Tiffany's
Stupid Criminals - robber tries to hold up closed bank
School's Out! - Utah considers dropping 12th grade

On this day in history: February 15, 1995 - The most wanted computer hacker in history, Kevin Mitnick, is arrested in Raleigh North Carolina for various offenses, one of which was breaking into security specialist Tsutomu Shimomura's computer.

Born on this day in history: February 15, 1954 - Matt Groening (1954 - ) Born in Portland, Oregon, cartoonist Matt Groening earned fans with his strip, "Life in Hell" (1980). Groening then landed an animation deal with the Fox Network in 1985, broadcasting his cartoons on 'The Tracey Ullman Show'. The popular shorts led to the spin-off "The Simpsons," which, in 2009, became the longest-running primetime series in the U.S.

Scripture of the Day: This is love: not that we loved God but that he loved us and sent his Son as an atoning sacrifice for our sins. — 1 John 4:10

Video of the Day: "Ballad of the Teenage Queen" - Johnny Cash


Imagine my surprise when I encountered this scene while passing through Walmart yesterday! Click to enlarge.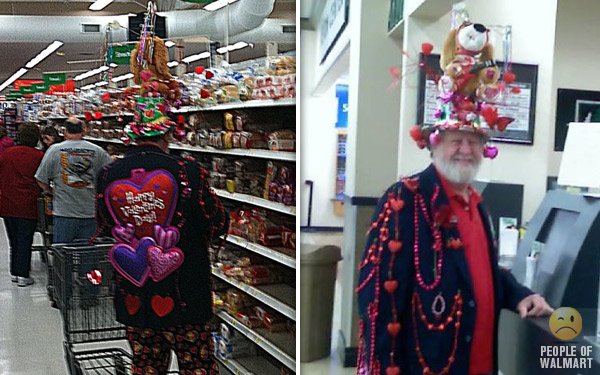 Technology News
Hands-on with Windows Phone 7 series
Sony Ericsson shows love for Android
A new wire twist on silicon solar cells

While I Slept

Last night, I dreamed that I bought a 1957 Cadillac Eldorado Biarritz convertible for $75 at a yard sale. The parking break did not work, and Park did not keep the car from rolling, so I had to be cautious to park it slightly downward and against a tree to park it in a local park. A gathering of people asked me to perform a Johnny Cash song, and I did "Ballad of the Teenage Queen." Everyone said it was NOT a Johnny Cash song. I awakened thinking of that song.