The Kids Are Alright - 7-year-old boy saves brother who fell through ice
Mommie Dearest - 9-year-old girl gives birth
Sonic Broom - neo-pagans get worship circle at Air Force Academy

On this day in history: February 2, 1852 - The first public toilet is inaugurated, located at 95 Fleet Street in London, by the Society of Arts.

Born on this day in history: February 2, 1882 - James Joyce (1882 - 1941) Born in Dublin, Ireland, writer James Joyce is best known for his novel Dubliners (1914) as well as his major work, Ulysses (1922), which was banned in the U.K. and U.S. until 1934. He revolutionized the novel form by abandoning ordinary plot for "stream of consciousness." His work continues to serve as a strong influence on modern writers.

Scripture of the Day: As it is written: "No eye has seen, no ear has heard, no mind has conceived what God has prepared for those who love him." — 1 Corinthians 2:9

Video of the Day: Groundhog Day--The Real Phil--Phantastic Phils!


Imagine my surprise when I encountered this scene while passing through Walmart on the way to my office this morning! Click to enlarge.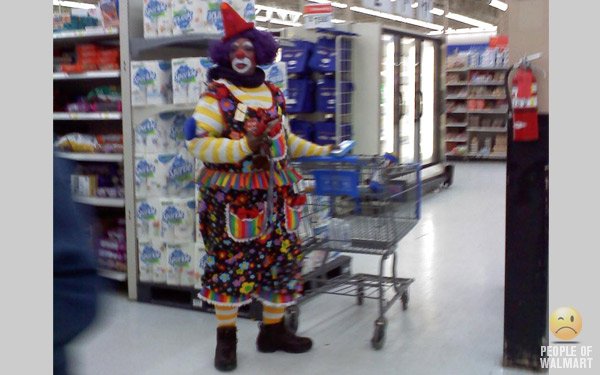 Technology News
Sony phone hides proper WinMo multitouch
New Facebook craze can violate terms of service
AT&T 3G version of Nexus One coming


The Weather and the People Who Forecast It
Punxsutawney Phil: 6 more weeks of winter

While I understand fully that meteorology is not an exact science, I am, nonetheless, amazed by the inaccuracy that is presented us by weather forecasters. Here is an excellent example: Laura shall leave Thursday for Tucson, AZ. I have been checking the weather predictions from various sources in order to determine what she might reasonably expect to encounter there during her stay. For several days, weather forecasts showed sunshine on Thursday and Sunday and rain on Friday, Saturday, and Monday. Yesterday, forecasts had changed and predicted rain throughout the week and into next week. This morning, however, forecasts call for sunshine from Thursday through Monday. The same weather forecasts show rain for Corning throughout the week. It is currently, however, sunny and dry. Whatever is one to think?