May Day - Today is May Day. May 1 is an ancient Northern Hemisphere spring festival and usually a public holiday; it is also a traditional spring holiday in many cultures.

May Day is related to the Celtic festival of Beltane and the Germanic festival of Walpurgis Night. As Europe became Christianized, the pagan holidays lost their religious character and either changed into popular secular celebrations—as with May Day—or were merged with or replaced by new Christian holidays, as with Christmas, Easter, Pentecost, and All Saint's Day.

The earliest May Day celebrations appeared in pre-Christian times, with the festival of Flora, the Roman goddess of flowers, and the Walpurgis Night celebrations of the Germanic countries. It is also associated with the Gaelic Beltane. Many pagan celebrations were abandoned or Christianized during the process of conversion in Europe. A more secular version of May Day continues to be observed in Europe and America. In this form, May Day may be best known for its tradition of dancing the maypole dance and crowning of the Queen of the May.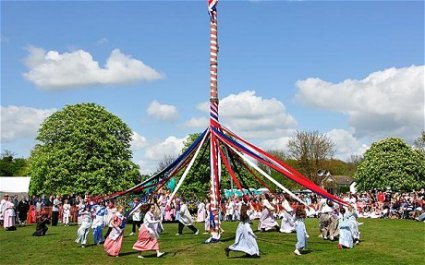 Animal Action - Enjoy these adorable animals!