Let's Eat! - Last evening, we enjoyed a delightful repast: Laura cleaned a quantity of large prawns. She made a marinade of exotic lime-infused extra-virgin olive oil, minced garlic, grated fresh ginger, and herbs and spices. She marinated the prawns overnight. I julienned zucchini, yellow squash, and yellow, orange, and red baby sweet peppers. Laura quickly sautéed the prawns and vegetables and took the dish to the table. For condiments, we had freshly grated Parmesan cheese. ground black pepper, and red pepper flakes. It was delicious.

A quantity of leftovers followed me to mine office and shall provide a succulent luncheon dining pleasure for me.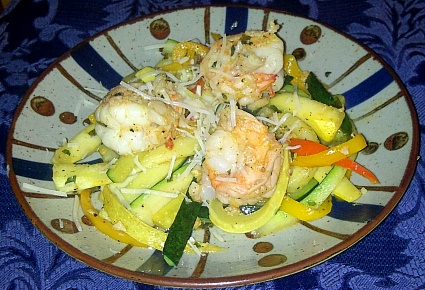 Let's Laugh! - Now, it is time to relax and chortle a bit!