Ribs - Saturday, we produced an excellent rack of baby back ribs.

Laura put an excellent rub on a large rack of baby back ribs. She used our favorite blend of garlic-pepper seasoning, Pappy's Seasoning, Gebhardt's chili powder, ground black pepper, and brown sugar. She then placed the rack in the refrigerator, where it rested for several hours.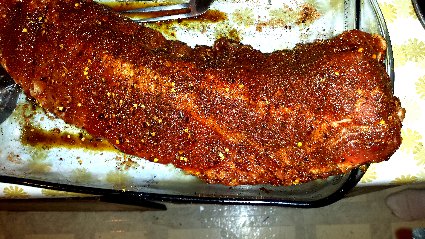 Laura ignited our Weber grill, cleaned the grate, and placed the rack of ribs directly over the three left-hand burners. The burners were on high; the meat side of the ribs was facing the flame.

After 15 minutes, she turned the ribs.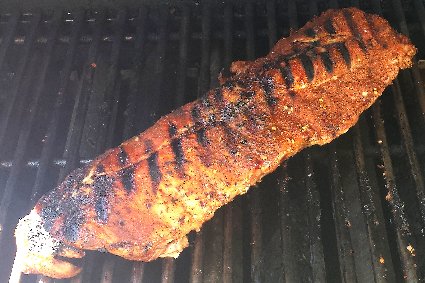 After 30 minutes, she moved the ribs to the right-hand side of the grill and continued cooking them using indirect heat.

She sprayed the ribs every 15 minutes with a mixture of three parts apple cider vinegar and one part olive oil.

After two hours, Laura applied a swabbing of Stubbs sauce to half the rack.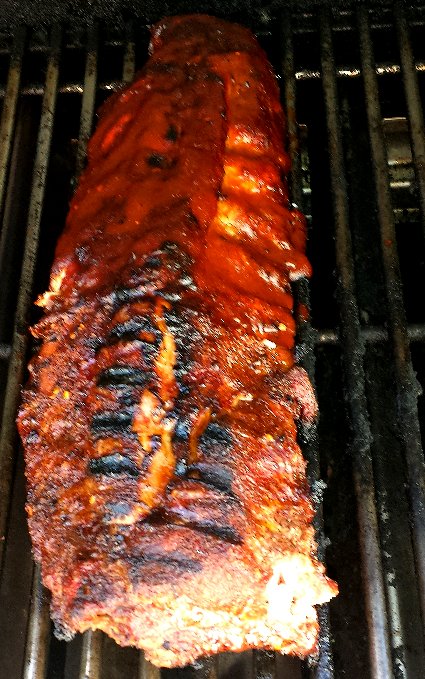 She cooked the ribs for another hour and took them to the table.

They were absolutely wonderful!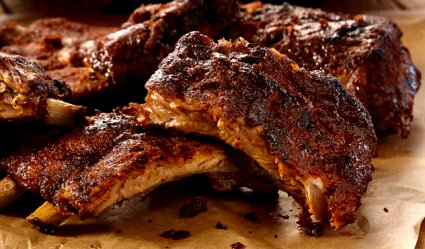 While Laura tended the grill, I produced a stellar batch of Cajun rice and beans. It was an excellent complement to the ribs!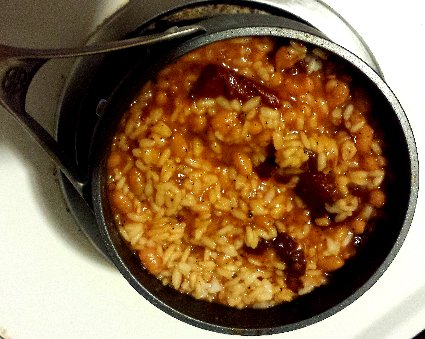 We feasted upon this delightful meal until we were sated. The leftovers provided a particularly delicious brunch Sunday after church.


Pizza - Sunday evening, Laura produced a succulent pizza.

She used a thin pizza crust, brushed it with extra-virgin olive oil, and topped it with pizza sauce, sun-dried tomatoes, red peppers, pepperoni, mushrooms, and cheeses. Leftovers followed us to work this morning.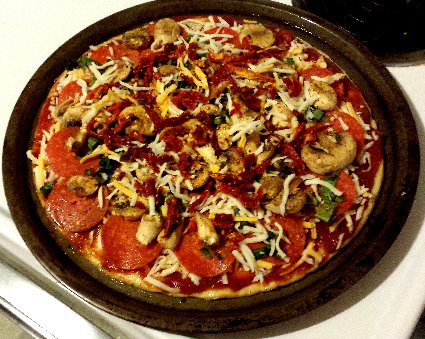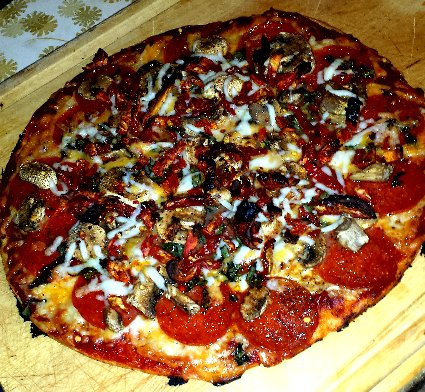 Enjoy! - Relax and enjoy!