How Ironic - psychic doesn't forsee her fraud arrest
Catch Me If You Can - former NASCAR driver leads cops on high-speed chase
Taking Names - NJ mom recognizes census worker as sex offender

On this day in history: May 20, 1960 - Music DJ Alan Freed, originator of the term "Rock and Roll," is indicted in New York in the Payola scandal. Freed had accepted $30,650 from five record companies to play their records, although to be fair "pay for play" was the accepted practice up to that point.

Born on this day in history: May 20, 1946 - Cher (1946 - ) Born Cherilyn La Piere Sarkisian in El Centro, California, singer and actress Cher originally created a singing act with then-husband Salvatore "Sonny" Bono, and was known for folk anthem "I Got You Babe" (1965). Cher found greater success on her own, as a singer and a stage and film actress, winning an Academy Award for Moonstruck (1987).

Scripture of the Day: May the God who gives endurance and encouragement give you a spirit of unity among yourselves as you follow Christ Jesus, so that with one heart and mouth you may glorify the God and Father of our Lord Jesus Christ. - Romans 15:5-6

Video of the Day: The Product Tester: Cuisinart Food Chopper


Imagine my surprise when I encountered this scene at Walmart while journeying to my office this morning! Click to enlarge.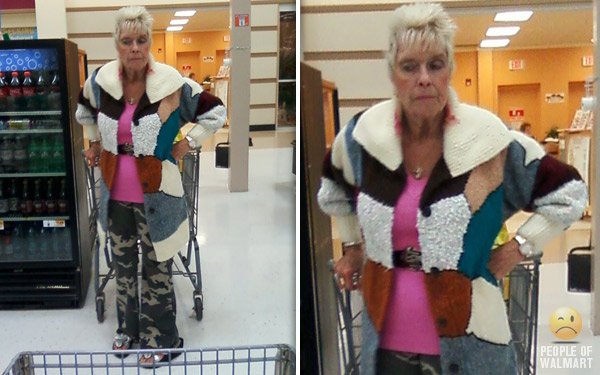 Technology News
Google offers free fonts for the Web
Google unveils 'Net storage utility
Identity theft crisis worsens for ID security CEO

Corning Skatepark Association
Be certain to visit the
Corning Skatepark Association Web Site!

Weather
The weather continues to disappoint: Today, it is dry, and the sun is shining brightly; but the birds are not singing, and the wind is brisk and appears to be increasing in force as the morning continues. Rain is forecast for tomorrow and Saturday. Yikes! This is not spring as it should be!

Telemarketer
A telemarketer called yesterday morning. I predicted it would be such when I saw "000-000-0000" on my Caller ID display.
[Me] California Technologies.
[TM] Hello; yes; good morning. Is this Mr. David at California Technologies?

The telemarketer's thick foreign, and the background chatter of like vermin substantiated my assumption.

[Me] Yes.
[TM] Yes; good morning. How is it now in California?
[Me] Tourism has slowed significantly since the potato blight.
[TM] (No response)

Plonk!