The Word - U.S. weapons etched with New Testament references
Surf's Down - Turkey blocking 3,700 Web sites
Do You Have Anything to Declare? - stunned Italian border guards find 15-year-old Afgan boy hiding in suitcase

On this day in history: January 19, 1997 - Todd Bridges, "Willis" on "Diff'rent Strokes," booked in Marina Del Rey on suspicion of assault with a deadly weapon. He repeatedly rammed the weapon, his car, into another vehicle after an argument in a video arcade.

Born on this day in history: January 19, 1946 - Dolly Parton (1946 - ) Born in Locust Ridge, Tennessee, singer-songwriter Dolly Parton gained early fame singing with country star Porter Wagoner. Nicknamed "The Queen of Country Music," Parton is the only artist to score a No.1 country single in each of the last four decades. In addition to music, Parton is an actress and operates her Dollywood theme park.

Scripture of the Day: In everything, do to others what you would have them do to you, for this sums up the Law and the prophets. - Matthew 7:12

Video of the Day: Chainlink Extreme 4X4 - submitted by Frank


I told the neighbor that it would be best to have a professional do his landscaping, but he decided to do it himself! Click to enlarge.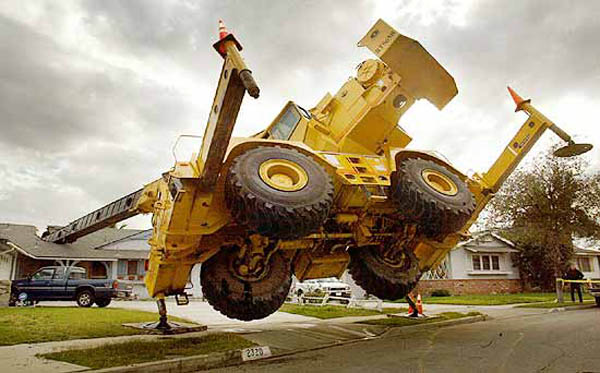 Rain and Wind! While it remains relatively warm (49° currently), the rain fell without respite throughout the night and continues yet. The wind howled throughout the night and appears that it shall plague us for several days. It is a wind from the south at 30 MPH, but gusts are easily twice that! I perched at my HP laptop this morning at 5 AM and researched articles for this morning's blog. Suddenly, a gust of wind blew the front door fully open! Certainly, angels kept watch over us as we slept—else this would likely have happened during the night! I quickly sprinted to the door and secured it.

Technology News
Was the attack on Google an inside job?
Yahoo knew of Google attack, kept quiet
AT&T fixes mobile Facebook problems