Stuffed Bell Peppers - Laura and I produced what was most assuredly the tastiest stuffed bell peppers ever created by man.

I cut a quantity of bell peppers lengthwise and removed the seeds, membranes, and stems.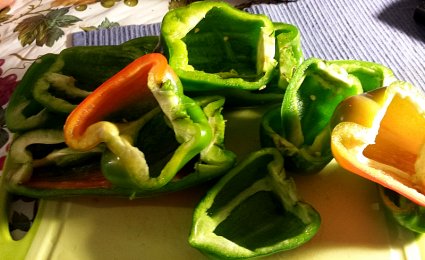 Laura dropped the bell pepper halves into a pot of boiling water and par-boiled them for three minutes. She then plunged them into an ice-water bath to halt the cooking. After a few minutes, she removed them from the ice-water bath and arranged them in a large Pyrex dish.

I chopped, sliced, shredded, and diced the following:
* half a large white onion
*four large white mushrooms
*12 garlic cloves
*two large sprigs of fresh sage
*two large Jalapeño peppers
*four small Thai peppers
*one medium habanero pepper

Laura combined these ingredients with a pound of ground turkey breast in a large sauté pan, added various herbs and spices, and sautéed until all was fully cooked. She added a cup of cooked rice and eight ounces of marinara sauce and stirred until it was fully incorporated. She spooned this delightful filling into the waiting bell pepper halves.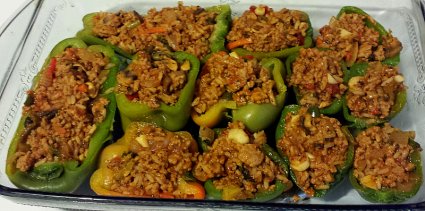 She generously scattered shredded pizza cheeses atop the bell pepper halves and placed the dish in the oven, which was pre-heated to 325°. When the cheese was melted, the dish was removed from the oven and set aside to rest for a few minutes.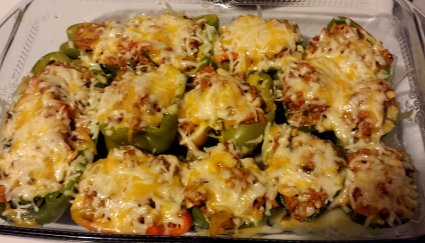 This was easily one of the tastiest meals ever enjoyed by humans.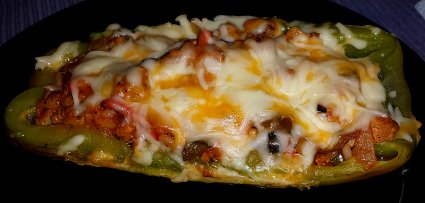 We enjoyed this wonderful creation so enthusiastically that we devoured the balance Sunday evening!


In the News - They walk among us!