The Perfect Burger - Laura is visiting family members in Tucson, Arizona. The kitties, Zeus and Thor, and I are bonding. I gave them an extra portion of kitty treats. They began devouring the kitty treats with great fervor. The sight made me realize it was time for me to dine. I had the butcher at the local market grind a filet mignon. From this, I produced The Perfect Burger.

I poached and minced a dozen garlic cloves, a medium Jalapeño, and a small habanero. I added Pappy's seasoning, ground black pepper, granulated garlic, and ground basil.

I grilled this on a Caphalon grilling pan. I smeared Sierra Nevada Stout mustard on a toasted sourdough bun and placed sliced tomato and sliced red onion to the bun, sprinkled the tomato with red pepper flakes and ground black pepper, placed pepperjack cheese atop the burger patty and placed it on the bun when the cheese had melted. I turned the fries to broil for the last two minutes, prepared a dip with catsup, mayonnaise, Jalapeño relish, and Crystal Extra-Hot Louisiana Sauce.

It was indeed The Perfect Burger.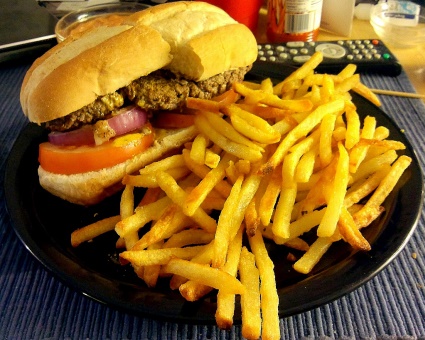 I am certain we have all joked about "taking a road trip" using Google Maps' Street View. I tried and soon tired of the amount of work and time involved in creating such a road trip. The team at T+L Labs put in all the work for you and created this amazing, mesmerizing road trip video using street view. It careens down roads at warp speed, often panning the view as if you are in the backseat looking out the window. This is an amazing journey! Get comfortable and ride!