Fast-Talking Computer Hacker Just Has To Break Through Encryption Shield Before Uploading Nano-Virus - LOS ANGELES — After dashing off an indiscernible code on his laptop keyboard and sharply striking the enter key multiple times with his forefinger, a fast-talking, visibly tense computer hacker said that he just has to break through the encryption shield before he could upload the nano-virus, sources confirmed Tuesday.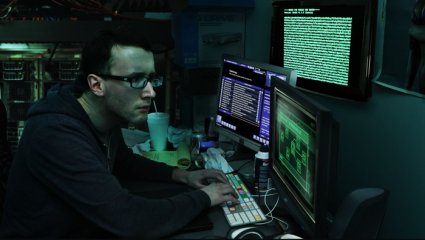 The arrogant if socially awkward hacker, a 30-year-old software-programmer-turned-cyberpunk known only as "Cipher," reportedly told his buttoned-up yet eager employers who were hovering over him and watching his every move that breaking into the supercomputer's mainframe would be "child's play."

"The firewall's a bitch, but I should be able to get around it," Cipher said before swiftly wheeling his computer chair to an adjacent desk, clearing away the pile of empty pizza boxes and Maxim magazines and scanning the numbers and figures scrolling across two mounted flat-screen monitors. "Oh, what have we here? Looks like they updated their security system. Impressive. But not impressive enough."

"And...I'm in," he added as the words "ACCESS GRANTED" appeared on his laptop screen.