One Is What One Eats - Laura continues her vacation in Tucson, where she is visiting with friends and family. I miss her, of course, as do the kitties, Zeus and Thor. We must eat, however, and with Laura away, dining chores fall fully upon me. Last evening's dinner was tasty indeed. It featured a New York strip steak that I marinated overnight with minced garlic, extra-virgin olive oil, ground black pepper, red pepper flakes, granulated garlic, and ground basil. As the steak grilled, I sautéed sliced white mushrooms and baby sweet peppers in extra-virgin olive oil, minced garlic, and Pappy's seasoning.

The kitties enjoyed their usual dry cat food. For a dinnertime treat, I gave them a serving of Seafood Medley kitty treats. I have no photograph of this to offer. I did, however, photograph last evening's dinner!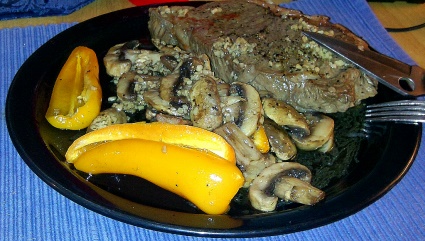 This morning's meal was not nearly as succulent as last evening's meal, yet it was very healthful and tasty!

I enjoyed a banana, four huge strawberries, and a toasted Jalapeno bagel with cream cheese.