Take a Bite out of Crime - Chihuahua becomes Japanese police dog
Animal Kingdom - PETA tries to halt elephant rides at Santa Ana Zoo
Ah Wilderness - Wi-Fi makes trees sick, study says


| | | |
| --- | --- | --- |
| On this day in history: November 23, 1936 - Bluesman Robert Johnson is recorded for the very first time in a San Antonio recording studio. The legend of Robert Johnson, arguably the most influential blues performer of all time, began growing in earnest only in the early 1960s, more than 20 years after his death. It was the 1959 publication of Samuel Charters's "The Country Blues" that introduced his name to many, but as Charters himself observed of Johnson at the time, "Almost nothing is known about his life....He is only a name on a few recordings." What is well known about those recordings is that they helped inspire a blues-rock revolution in the decade that followed—a revolution led by young British musicians like Eric Clapton and Keith Richard. What is less well known, perhaps, is just how small that body of work actually is. | | |
| | | |
| --- | --- | --- |
| Born on this day in history: November 23, 1888 - Harpo Marx (1888 - 1964) Born Adolph Arthur Marx in New York City, comedian and actor Harpo Marx, with brothers, Leonard (Chico), Julius (Groucho), Milton (Gummo) and Herbert (Zeppo), developed the successful Marx Brothers comedy act on stage and for films. Harpo became a gifted mime, never speaking professionally. | | |
Scripture of the Day: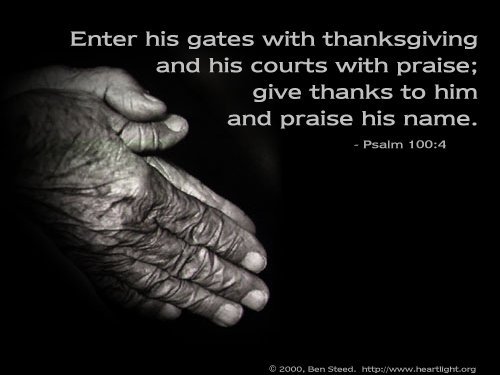 Video of the Day:
Embrace Life - Always Wear Your Seat Belt - submitted by Laura NOTE: There is a section of Highway 99 that is known locally as "Blood Alley" because of the many fatal accidents that have taken place there. It is the highway that connects Corning and Chico, and Laura has traveled to and from her job in Chico for ten years, traveling "Blood Alley." Last Monday, a truck pulled into her lane, heading in the wrong direction--causing Laura to engage her quick responses and excellent driving skills to avoid a head-on collision with this cretin. This experience remains indelibly etched into Laura's memory. She has since taken an alternate road when traveling home in the evening, when it is dark. Additionally, she took a defensive driving course provided by her employer. This video was featured in the course.

Laura and I remind everyone to wear their seat belts and drive with great caution!


Imagine my surprise when I encountered this scene at Walmart while journeying to my office this morning! Click to enlarge.


Technology News
Opera 11 Beta offers new take on tabs, extensions
Federal Reserve hacker indicted
Malware is everywhere, report says