Animal Kingdom - Jack Russel terrier chases mountain lion up tree
Weapopns of Choice - Florida car dealership offers free AK-47 with every truck sale
Come Home Little Sheba - cash-strapped NYC will no longer look for lost pets


| | | |
| --- | --- | --- |
| On this day in history: November 15, 1990 - Producers acknowledge that Milli Vanilli (the 1990 "Best Artist" Grammy Award winners) did not sing on their album. One of the duo, Robert Pilatus, later attempts suicide in 1991 but he couldn't even get that performance right. He does succeed 7 years later, though. | | |
| | | |
| --- | --- | --- |
| Born on this day in history: November 15, 1887 - Georgia O'Keeffe (1887 - 1986) Born in Sun Prairie, Wisconsin, artist Georgia O'Keeffe became famous for flower paintings such as "Black Iris" (1926), and cityscapes. She settled in New Mexico in 1946, which inspired the paintings that made her reputation in 20th-century American art. | | |
Scripture of the Day:
Trouble and distress have come upon me, but your commands are my delight. — Psalm 119:143
Video of the Day:
- Insane Street Bike Stunts - submitted by Darin
Imagine my surprise when I encountered this scene at Walmart while journeying to my office this morning! Click to enlarge.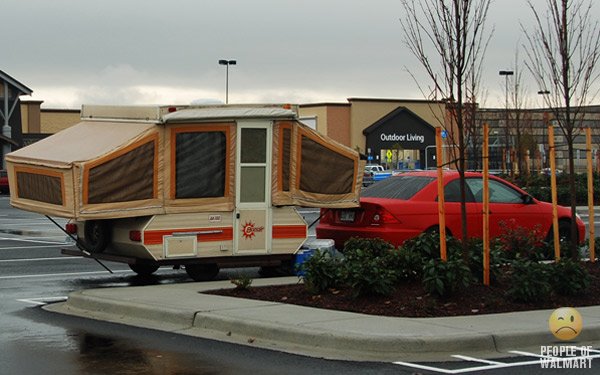 Technology News
Google Earth adds panoramic pictures
Google Signals Android 2.3 "Gingerbread" is done baking
Police told to text to save money