National Spanish Paella Day - Today is National Spanish Paella Day!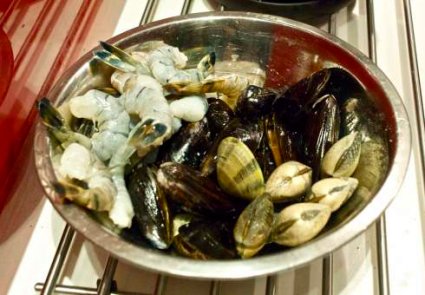 The roots of paella reach back to Valencia. The original Valencian dish was a mixture of meat, snails, beans, and green vegetables. There two basic variations on the original: Seafood paella, as the name suggests, eliminates the meat in favour of all seafood. Mixed paellas are more akin to the original but usually include chicken (instead of the traditional rabbit) and shellfish (instead of snails).


The most distinctive characteristic of any paella is the bright yellow rice that comes from the saffron (azafrán)—an ingredient in any paella.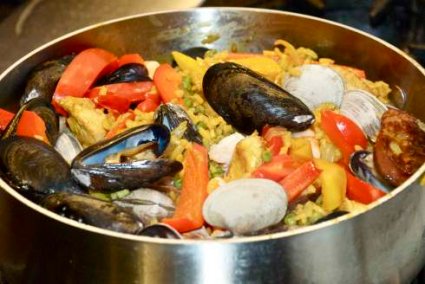 At its core, paella is a meal that makes use of what is at hand—local, fresh and available.


Once one has established the mixture of meat and fish one wishes to use in the paella, the only challenge is timing it right to make sure the rice is cooked and the shellfish are still tender and sweet.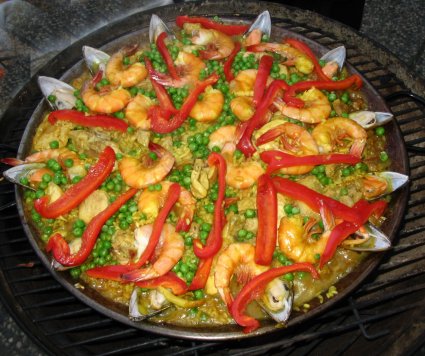 Paella (serves 6)

1.5 cups Arborio or other short grain rice
4 cups chicken stock
1 cup white wine
1 large white onion, diced
4 cloves garlic, diced
zest of one lemon
1/4 pound chorizo, sliced in 1/4' rounds
6 chicken thighs, skin on
1 tsp smoked paprika
1 tsp crushed saffron
2 cups fresh or frozen peas
2 red peppers, thick julienne
1 pound prawns
1 pound mussels
1 pound clams
juice of one lemon
parsley, chopped

1 -In a large sautée pan with tight-fitting lid or paella pan, cook chorizo on medium heat until browned on both sides and fat has rendered off. Remove from pot and set aside.
2 - Add chicken to the pan. Cook until deep brown color on both sides. Remove from pan and set aside.
3 - Add onions and sautée until translucent.
4 - Add garlic, paprika and lemon zest and cook for another minute.
5 - Add rice. Stir to coat rice with oil and toast for about 2 minutes.
6 - Add white wine to deglaze pan, scraping off brown bits from the bottom.
7 - When wine has almost been absorbed add 3 ½ cups stock and saffron. Let stock come to boil and reduce heat to simmer. Cook for 3 minutes.
8 - Bury chicken and chorizo in the rice/stock mixture. Cover and cook for 12 minutes.
9 - Add peas, peppers and prawns. Cover and cook for another 2 minutes.
10 - Add clams, mussels and remaining ½ cup of stock. Cover and cook for 3 minutes.
11 - Remove lid. If shellfish haven't opened, replace lid and let cook for another minute.
12 - Squeeze lemon over paella and sprinkle with parsley.
13 - Enjoy.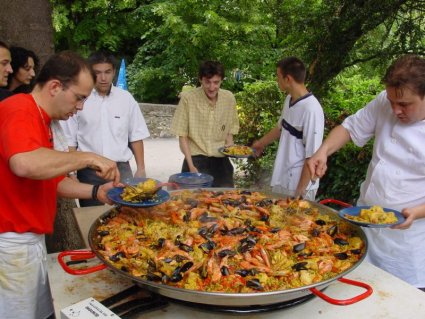 In the News - They walk among us!